Banpu Recognized Leader of Sustainability, 2019 Awards and Achievements Emphasizes Company's Commitment to ESG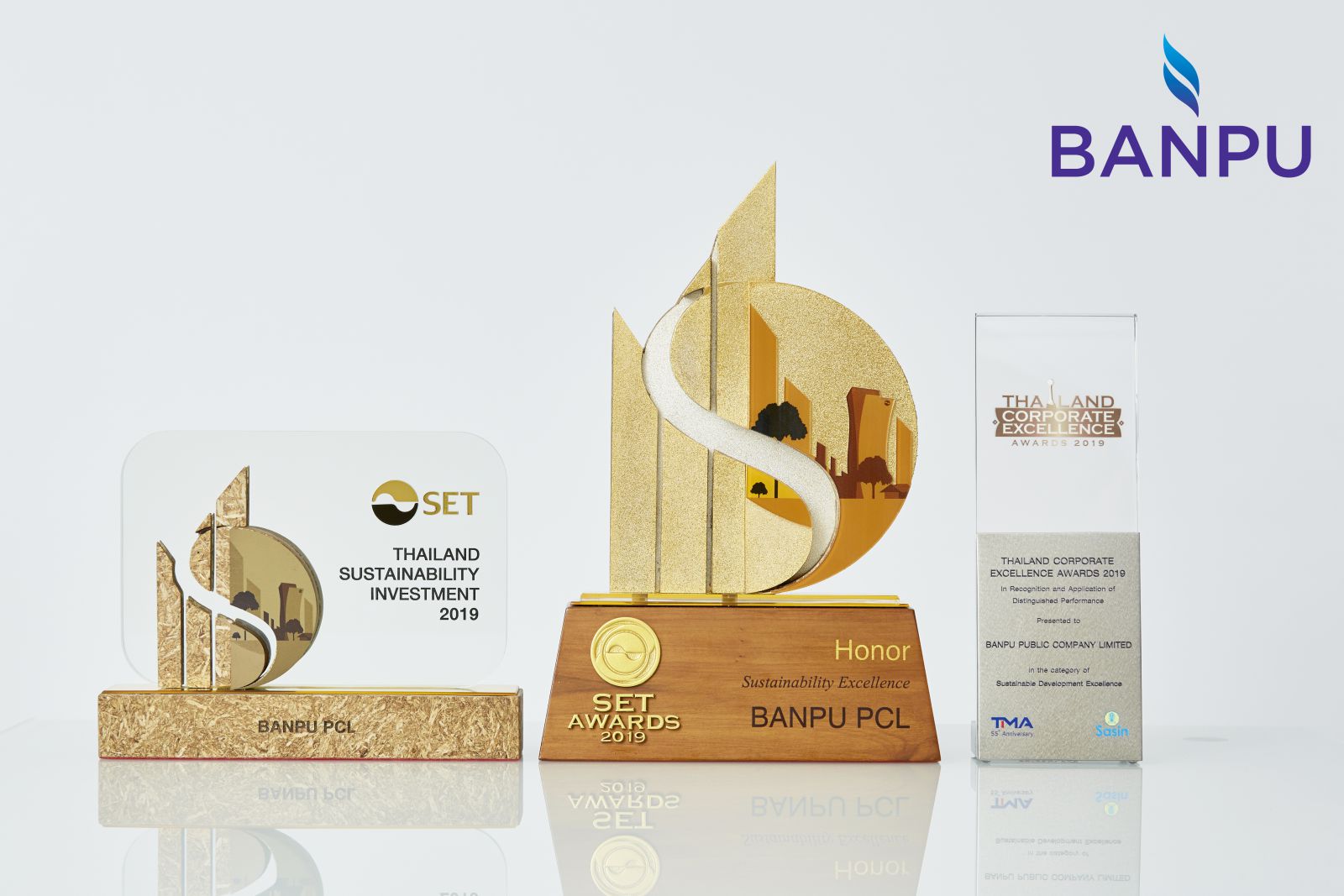 Banpu Public Company Limited, a leading integrated energy solutions company in Asia-Pacific, is once again being recognized as a leader in sustainable management in 2019. The company had been conferred national and international awards, including being selected to be a member on the 'Dow Jones Sustainability Indices' (DJSI), being rated ' A' for 'MSCI ESG Ratings', being listed on 'Thailand Sustainability Investment' (THSI), acquiring 'Sustainability Awards of Honor', as well as receiving 'Thailand Corporate Excellence Awards 2019'. All the accomplishments in 2019 reflect the company's commitment to having the operation and management in all respect of sustainability, namely, economy, environment and society.
In 2019, Banpu was selected as a member in the 'Dow Jones Sustainability Indices (DJSI) – Emerging Markets' for six consecutive years, remaining its status as an industry leader in coal and consumable fuels for five consecutive years, by RobecoSAM – the world's sustainability rating agency. Banpu was examined by its business operation results following sustainable practices in all three aspects: economic, environmental, and social. The achievement indicates the success in Banpu's business performance following the Company's sustainable policies.
Banpu consistently conducts its business following ESG principles – Environmental, Social and Governance – to support the Company's business growth as well as generate benefits and returns for all stakeholders. Due to the aforementioned, Banpu was rated a higher level of trustworthiness by MSCI ESG Ratings – from BBB to A level by MSCI ESG Research, an organization with expertise and reliability in international ESG index. Most importantly, Banpu is listed in Thailand Sustainability Investment (THSI) for the fifth consecutive year for its business operation being in-line with responsible investment principles.
Banpu also received trophies for its sustainable policies, including the third consecutive Sustainability Awards of Honor in Sustainability Excellence, at SET Awards 2019 held together by the Stock Exchange of Thailand and Money and Banking Magazine. Additionally, presented by Prime Minister Prayuth Chan-Ocha, the Company received the Sustainable Development Excellence Award at the Thailand Corporate Excellence Awards 2019 jointly held by the Thailand Management Association and Sasin Graduate Institute of Business Administration of Chulalongkorn University.
Ms. Somruedee Chaimongkol, Chief Executive Officer of Banpu Public Company Limited, said, "the beginning of 2020 onwards, Banpu is still committed to continuing our business development for sustainability according to ESG principles. The achievements throughout the past year not only reflect our perseverance but will also inspire our employees to join the Company in carrying on our policies that emphasize on business management with the integration of eco-friendly business operation, social contribution, and best practice of corporate governance, following our belief in the norm that an industry would be vigorous only when it is developed in tandem with social and environmental responsibility. Looking forward, Banpu is ready to continue the Greener & Smarter strategy with our refreshed business group to continuously deliver sustainable returns for both shareholders and stakeholders."
# # #
About BANPU
Banpu Public Company Limited is a leading integrated energy solutions company with 3 core groups of businesses: energy resources, energy generation and energy technology in 10 countries, namely, Thailand, Indonesia, China, Australia, Lao PDR, Mongolia, Singapore, Japan, the United States of America and Vietnam. As of 30 June 2019, Banpu's assets totaled USD 8.518 billion, an increase of USD 64 million compared to the total assets as of 31 December 2018.