Digital Transformation
Significance
Improvements in productivity and process efficiency are important to the Company since it is directly related to the operational costs. In addition to continuous improvements, the Company pursues step-change improvements through user-centric digital solution deployment as the key to ensure the Company's competitiveness.
Management Approach
The Company has enhanced the lean manufacturing and operational excellence programs from a preventive approach to a predictive approach. This is enabled by the implementation of advanced analytics to gain meaningful insights to deploy preventive actions at the right time. The Company is in progress towards becoming a digitally-enabled enterprise by ensuring a digital transformation in 3 dimensions encompassing Business, Technology, and People.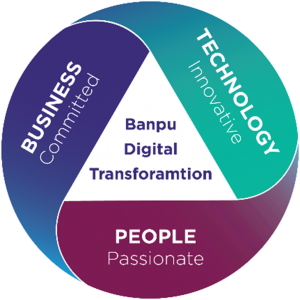 In the Business dimension, the Company has sparked innovation by starting with employee ideation. Since 2012, "Banpu Innovation Convention", a corporate knowledge-sharing forum, is annually arranged to provide an opportunity for front-line staff in each country to share their innovation. Also, employees are motivated to submit their ideas through the digital's platform such as "WOW Idea" in Thailand or the "Infinity and IdeaBlast" in Indonesia.
The Technology dimension puts focus on the real users and stakeholders when developing solutions to the problems. Cross-functional collaboration in Design Thinking workshops, improvement of UX/UI, initiatives to solve the customer pain points are the key drivers.
The People dimension focuses on training. Curated Agile mindset and 4th industrial revolution technology courses through the Banpu Digital Academy are developed to ensure the employees' readiness.