Banpu Donates 2.4 Million Baht to Six Schools in Northern Thailand under "Banpu Education for Sustainability" Project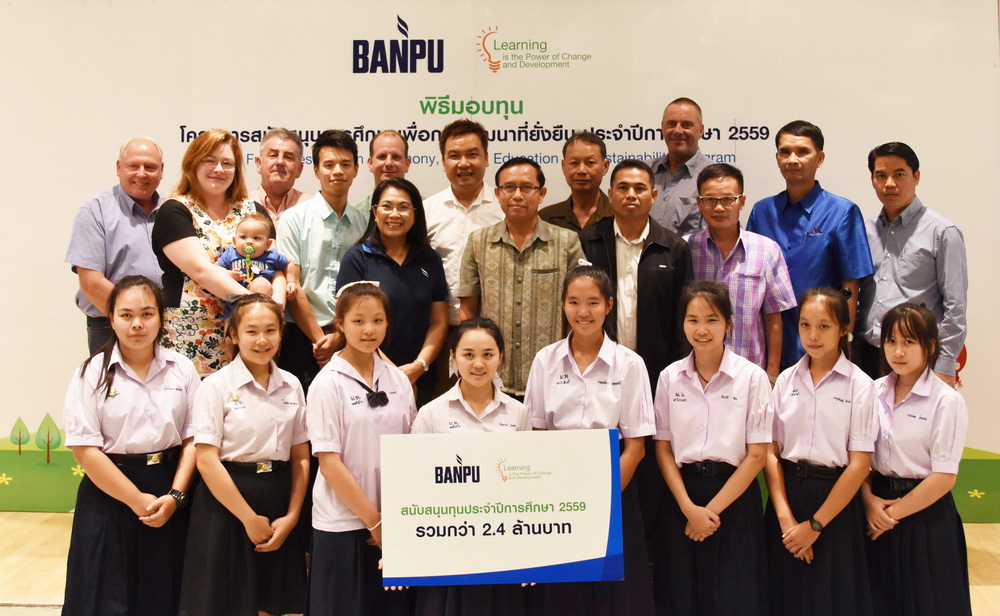 Banpu Public Company Limited, a leading Asian energy company, represented by Mrs. Udomlux Olarn (middle row, 6th from right), Head of Corporate Affairs, has recently donated 2.4 million Baht under 'Banpu Education for Sustainability' Project to six schools in Northern Thailand. The funds will be used to provide Thai students and teachers with effective English language studies with native speakers to increase the learners' competencies, broaden their perspectives of international cultures, building blocks of friendships and life skills development.
Based on Banpu's belief "Learning is the Power of Change and Development", Banpu initiated the 'Banpu Education for Sustainability' Project in 2004 as part of its corporate social responsibilities aimed to enhance the learning capability of students in the six schools, namely Sobprabpittayakhom School, Maethapattanasuksa School, and Maethawittaya School in Lampang province, Wiangjedee Wittaya School in Lamphun province, Chiang Muan Witthayakhom School and Bansra School in Phayao province. Throughout the 13 years of ongoing work, the project has emphasized on academic development while cultivating morale, ethics, and caring hearts for the community and society, as well as extending the students' opportunities to acquire life skills.