Banpu Grants Scholarships to Geology and Mining Engineering Students for Four Consecutive Years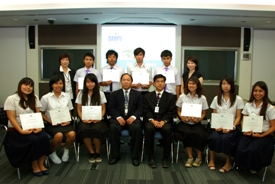 To support a development of manpower in the fields of geology and mining engineering, Banpu Public Company Limited recently granted scholarships to 10 senior students majoring in geology and mining engineering from four academic institutions in Thailand, namely, Chulalongkorn University, Khon Kaen University, Chiangmai University and Prince of Songkhla University.
This year, the Banpu's scholarships for geology and mining engineering students have been embarking on its fourth year of operation. The scholarship includes a financial support for tuition and accommodation fees, learning material allowance and monthly stipend for one year. The Company, so far, gave away the scholarships to 38 geological and mining engineer students.
In this photo: Dr. Sathidpong Wattananuchit (middle), Banpu's Assistant Chief Executive Officer – Corporate Services, is taking a photo with 10 geological and mining engineering students who receive grants from Banpu this year.