Banpu Donates 1.5 Million Baht to Support and Restore Schools in Southern Border Provinces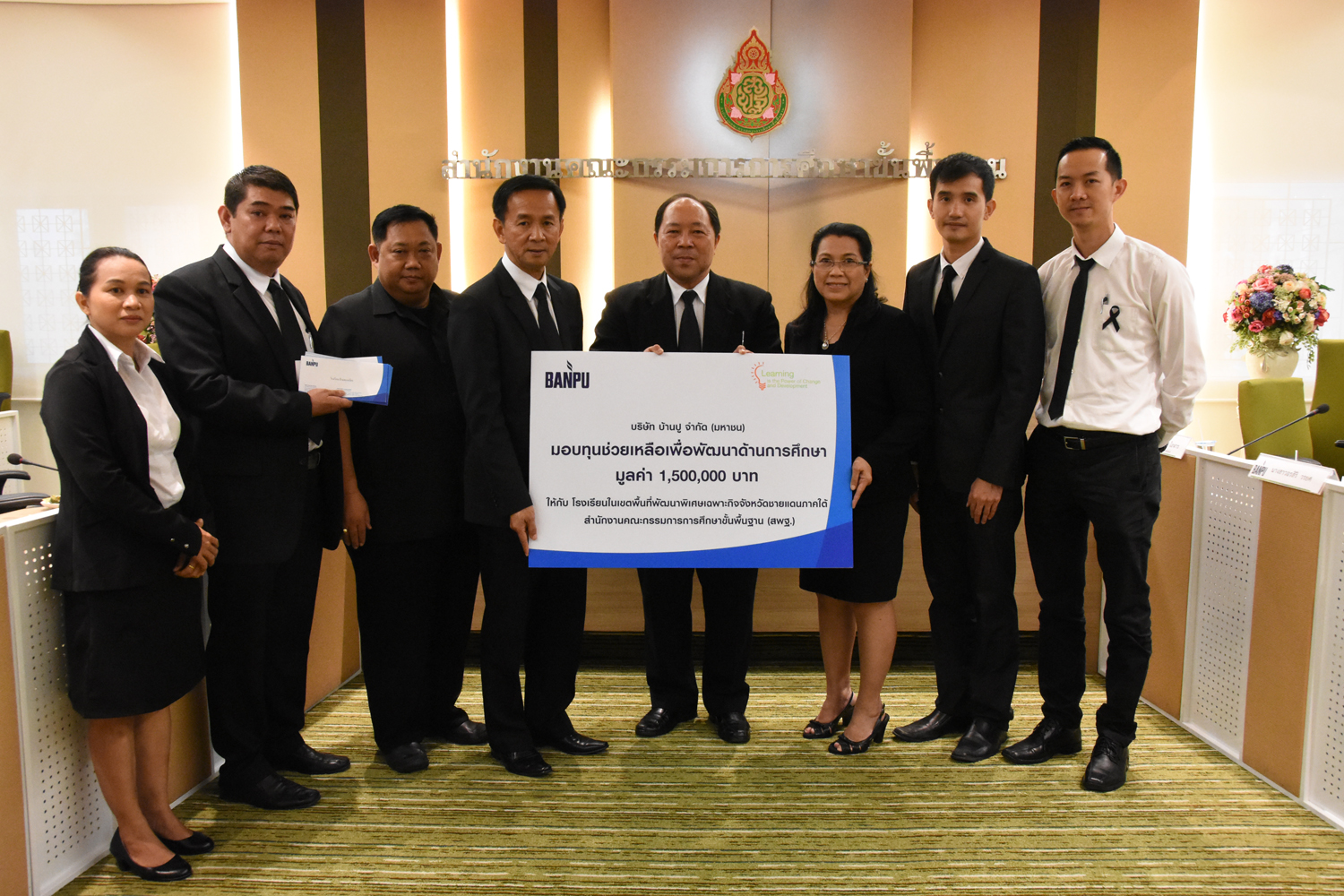 Bangkok – Recently, Banpu Public Company Limited, a leading Asian Energy Company that is driven towards social sustainability, led by Mr. Sathidpong Wattananuchit (5th from left), Head of Corporate Services and Ms. Udomlux Olarn (6th from left), Head of Corporate Affairs presented THB 1.5 million fund to Mr. Karoon Sakulpradit (4th from left), Secretary General of the Office of Basic Education Commission, at the Office of Basic Education Commission (OBEC). The project is aiming to support schools in special development zone of southern border provinces that have been affected by the unrest situation.
Banpu has granted scholarships to schools every year since 2007 to restore and assure continued education despite civil disturbances. As Banpu emphasizes "learning" aspect because the Company believes that "learning is the power of change and development to ensure sustainable development of communities and society. The Company has provided
assistance to 92 schools in Narathiwas, Pattani, Yala, Songkhla and Satun provinces. In 2016, it is the 10th consecutive year that Banpu continues to provide annual financial support of THB 150,000 per school, totaling THB 1.5 million for further development of continued education.
###
"Learning is the Power of Change and Development"
Based on Banpu's belief that "education and learning" powers constructive change and sustainable development of "people" and "society", Banpu's CSR activities, both at the corporate and local levels, emphasize the promotion and development of continued "learning" among children and young people. To ensure sustainable development of communities and society, a number of initiatives – both in and outside the classroom – have been undertaken. These range from learning (both individually and as a team) through daily real-life experiences and hands-on practices to enhance capabilities and skills to the provision of necessary financial and other support
About Banpu
Banpu is a pioneering Asian energy company, operating business in coal, power generation, and integrated energy sectors in nine countries; Thailand, Indonesia, China, Australia, Lao PDR, Mongolia, Singapore, Japan and the United States of America.