Banpu Champions for Change 4 conducts "Business Plan Development Workshop"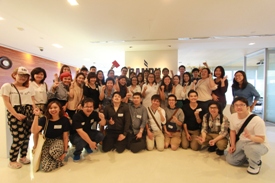 After launching the "Banpu Champions for Change 4" program in early January this year, Banpu Public Company Limited led by Udomlux Olarn (Middle), Head of Corporate Affairs , recently held an intensive business plan development workshop for 18 teams of young social entrepreneurs who have passed the initial selection. The workshop covered social problem analysis, market testing, and business strategic plan development aiming to help increase skills of these young entrepreneurs' skills in developing business plan that can generate profits and return benefits to society and environment in a sustainable way.
In addition, all 18 teams presented their social enterprise (SE) initiatives to the committee and the top 10 teams were selected to receive financial support for trial period for 3 months. Final four teams with the most outstanding performance and tangible contribution will then be selected to receive 200,000 Baht grant each to continue their second phase implementation, which will start around July 2014.
About Banpu Champions for Change Program
"BANPU Champions for Change 4" program is one of BANPU's corporate social responsibility activities undertaken under the concept of "Learning: A Power of Change and Development. Initiated in 2011," Banpu Champions for Change" is open to Thai youth nationwide to create and implement their own social enterprise (SE) initiatives based on their own interest and expertise. Moreover, it also provides them an opportunity to learn from first-hand experience in running social enterprise activities and applying their skills to create successful and profitable social enterprises. They will learn how to return the benefit earned from their social enterprises back to the community and society.