Banpu Continues Its Education Support for Sustainable Development for Six Consecutive Years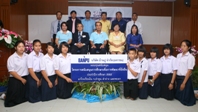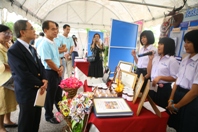 Lampang: Banpu Public Company Limited recently held a sponsorship presentation ceremony entitled "Moving into the 6th Year of Banpu's Support towards Educational Sustainability" at Banpu Exhibition Center in Sobprab district of Lampang province, where it donated a total of THB 2.7 million to six schools in Lamphun, Lampang, and Phayao provinces. The event was held as part of the "Banpu Education Support for Sustainable Development" project, established in 2004 to enhance the competency of teachers and students, along with upgrading learning environments by improving ICT facilities and learning tools. Ultimately, the project aims to develop the six schools to be sustainable learning centers for surrounding communities.
Under the "Banpu Education Support for Sustainable Development" project, Banpu has contributed a total of over THB 16 million to six schools in the North, including Wiangjedee Wittaya School in Lamphun province, Maethawittaya School, Maetha Pattanasuksa School, and Sobprabpittayakom School in Lampang province, as well as Chiengmuan Wittayakhom School and Ban Sra School in Phayao province.
PHOTO 1: Mr. Chanin Vongkusolkit (seated, center), CEO of Banpu Public Company Limited, presided over the sponsorship presentation ceremony for six schools. The event was attended by Mr. Suchart Wongsuwan (seated, 2nd from left), Academic Advisor to the Office of Basic Education Commission (OBEC), along with executives from OBEC and Banpu Plc.
PHOTO 2: Mr. Chanin and executives from Banpu Plc. and OBEC visited an exhibition of projects accomplished by the six schools that have been continuously supported by Banpu.