As a good corporate citizen, Banpu Investment (China) Co., Ltd. (BIC), a subsidiary of Banpu Public Company Limited, implements corporate social responsibility (CSR) activities in alignment with Banpu's CSR policy and the corporate direction while developing its business in line with China's economic growth. BIC has been actively supporting the local government agencies in social activities and community development. It strives to not only minimize adverse impacts from its operations, but also to improve the standard of living and the environment quality of its surrounding communities. BIC has also continuously built good relationships with its neighbors and local communities with the aim of nurturing mutual understanding, trust and sustainable development.
Youth Capacity Development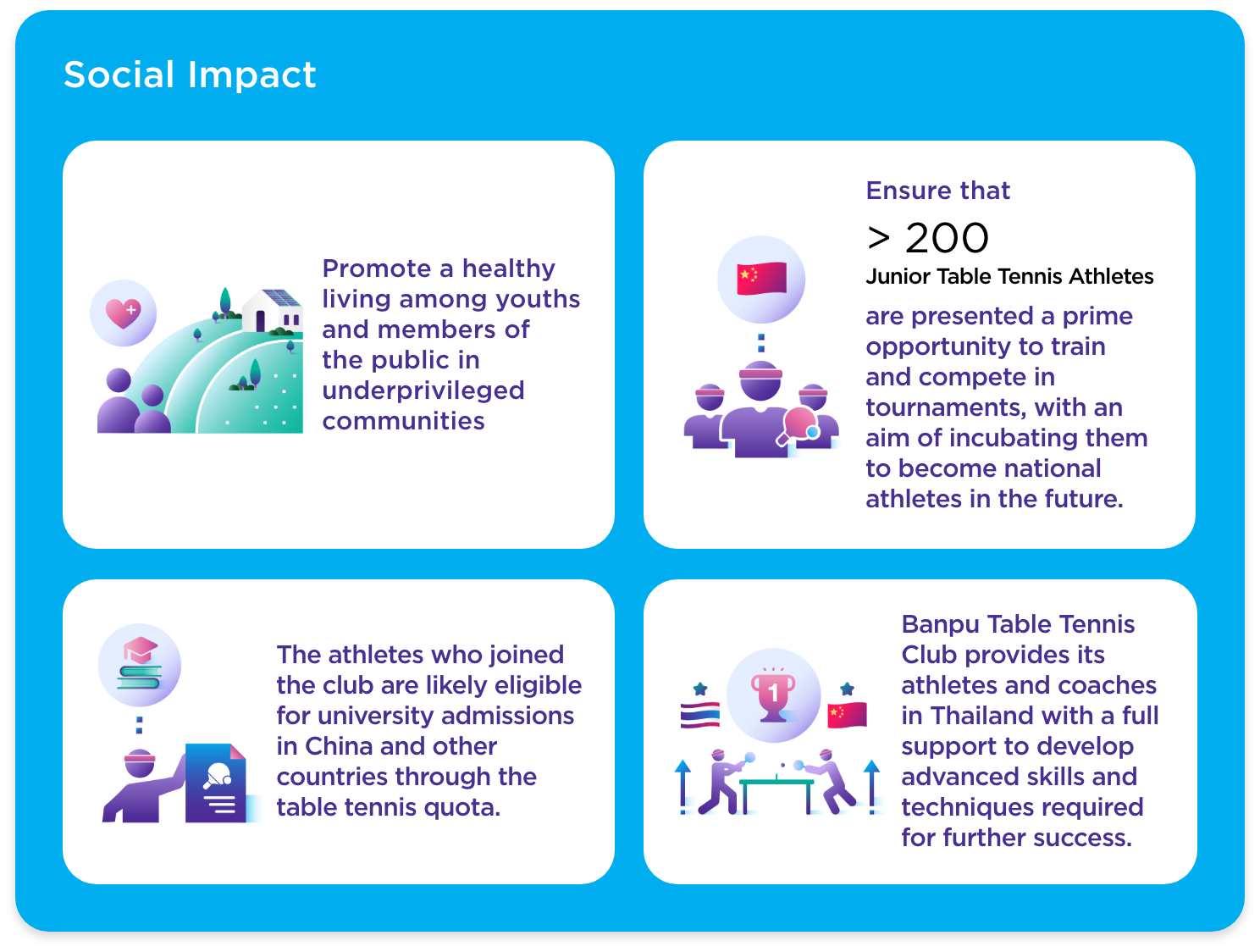 To support a healthy lifestyle among youths and members of the public, BIC has continued to provide various local communities surrounding our areas with sports equipment and facilities. For example, it helped facilitate the construction of basketball and table tennis fields at Heyuan residential area and Heshan High School, as well as provided badminton and gym equipment for Hao Jiazhuang village.
Since 2003, BIC has been supporting young talents in table tennis by entering into a sponsorship with Banpu Table Tennis Club (formerly known as Chengfeng Cogen Table Tennis Club) with an aim to help the junior players in training and ultimately achieving the goal of becoming professional athletes.
• Banpu Table Tennis Club in China is associated with its counterpart in Thailand. BIC's support for the sports club does not only help improve training and performance in tournaments, but also tightens the link between Banpu's headquarters in Thailand and its Chinese subsidiary. This relation has enabled professional table tennis coaches from China to come and train BTTC athletes in Thailand and Thai players to be trained abroad at the ZNTTTC.
• Joined by over 50 female players aged between 8 and 17, Banpu Table Tennis Club is based in Zhengding National Table Tennis Training Center (ZNTTTC), and hailed as the "Cradle of the World's Table Tennis Championship", with top-drawer conditions and facilities to provide effective training and a pleasant living environment for a total of over 200 athletes and 19 coaches.
• The athletes of the club achieved outstanding results in global and national competitions. They also won numerous smaller-scale championships and were runners-ups in several grand tournaments.
A total contribution for public health and junior table tennis athletes is over CNY 2 million
(approx. THB 12.76 million).
*Exchange rate on 8 May 2020: 1 CNY = 4.5639 THB