Youths from "The Power Green Camp 5" promote their ideas to sustain the worlds biodiversity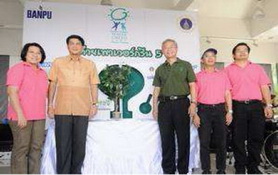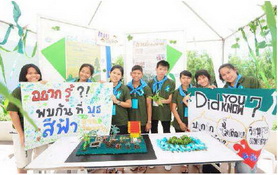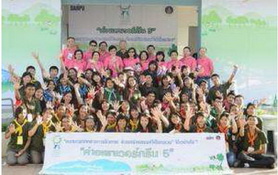 Salaya, Nakhon Pathom – Sixty of the "Power Green 5" campers who are 11th grade students nationwide majoring in science, unveiled the "Biodiversity Creating a Livable World" concept through an exhibition of environmental science projects at the MU Corner of Mahidol University's Salaya Campus on October 23, 2010. The event was aimed at sharing ideas with the public on how to protect biodiversity by using scientific methods to sustain a balanced eco-system. The exhibition reflected how the coexistence of diverse life forms in the eco-system is critical to all life on earth. This is also in line with the United Nations' declaration of 2010 as the International Year of Biodiversity.
This event was part of "The Power Green Camp 5," held during October 18-24, 2010 by Mahidol University's Faculty of Environment and Resource Studies and Banpu Plc., for five consecutive years.
The camp aims to provide Thai youth with knowledge about environmental science and natural resources, allowing them to learn how to systematically solve environmental problem through theory and practical activities. This will ultimately lead to sustainable environmental conservation in the long run. The Camp's activities are in line with Banpu's CSR concept which supports youth education.
In addition, the 60 campers had opportunities to learn more about biodiversity from a well-known environmental activist, Dr. Rangsarit Kanjanawanich, perform scientific experiments to learn about forest, animal, mangrove forest, and water resource ecosystem biodiversity in Mahidol's advanced environmental science laboratories, as well as join a field trip to learn and experience biodiversity at Khao Yai National Park.
PHOTO (1): (from left to right): Ms. Udomlux Olarn, Head of Corporate Affairs-Banpu Plc, Mr. Surapol Sawaengsak, Deputy Governor of Nakhon Pathom Province; Assoc. Prof. Preecha Soontranan, Vice President for Students and Special Affairs-Mahidol University; Asst. Prof. Sittipong Dilokwanich Ph.D., Dean of the Faculty of Environment and Resource Studies-Mahidol University, and Dr. Narin Boontanon, Chairman of "The Power Green Camp 5" opened "The Tree of Wisdom," to mark the opening ceremony of the "Power Green Camp 5 Exhibition".
PHOTO (2): At the exhibition, youths in the Blue Group from "The Power Green Camp 5" presented their idea to the public about "Good things in the backyard" to protect biodiversity by applying folk wisdom at home.
PHOTO (3) 60 members of "The Power Green Camp 5" took a photograph with Banpu staff and lecturers from the Faculty of Environment and Resource Studies of Mahidol University.