YIM 5 is now open for applications, encouraging new generation to work for better society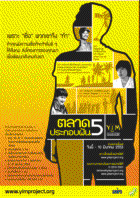 21 January 2010 – Banpu Plc. in cooperation with Why I Why (YIY), a group of socially aware innovative youngsters, continues the YIM (Young Innovation Marketplace) for the 5th time, open for youth aged between 18-30 years old with belief to make good things for the society to submit their social or community development projects to win chances to get the projects funded. The application is now open till 10 March.
The Youth Innovation Market Place 5 or YIM5 was originated for young social entrepreneurs aged 18-30 years old nationwide to gather into a group of 3 and submit their ideas to win financial support worth 130,000 for each team to implement their projects. The winning teams will also have an opportunity to be trained on project management and be provided with specialists in the related fields to help advise on the projects. In addition, there will be special awards for projects which achieve outstanding results at the end of the program.
"What's special this year is projects under YIM 5 that show strong results will be given an additional award and fund for capability development. Impact to the community where the project is implemented, innovation, and project sustainability are among our judging criteria," said Ms. Udomlux Olarn, Head of Corporate Affairs, Banpu Public Company Limited, as the main supporter of YIM 5.
Mrs. Srisak Thaiarry, director of National Council for Child and Youth
Development under the Royal Patronage of HRH Princess Mahachakri Sirindhorn (NCYD) as the chairman of the YIM project committee commented that YIM is one of the pioneers that support youths to do good things to society.
"We have witnessed lots of improvement in the YIM project itself and the potential of the youth who received support under this program each year. I'm very glad to be part of the development of this project and would like to thank Banpu Plc. for continuing support to the project since YIM 3. This has provided plenty of opportunities for Thai youths to utilize their creativity through social development projects and gain wider perspective on community
work," said Srisak.
YIM 5 is now open for youths aged 18-30 years (3 people per group) who have experience in implementing social projects and are ready to implement the proposed project for 4-6 months to submit their projects. Application form and more details are now available at www.yimproject.org or contact YIY (YIM 5 Project) at 24/147 Soi Ladprao 21, Ladprao Road, Chompol, Chatuchak,
Bangkok 10900. Tel. 02 513 5501