YIM 5 Equips Young Social Entrepreneurs with Project Skills, Empowering Social Projects Nationwide Starting in May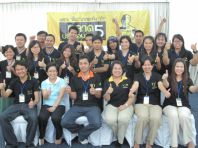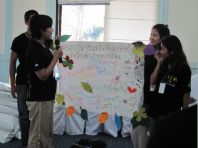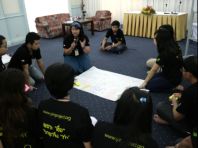 28 – 30 April, 2010 – Salaya, Nakorn Pathom – Youth Innovation Marketplace (YIM 5) held an Orientation Camp in order to equip team members of 5 projects selected under "YIM 5" with project management skills before the budding socially aware youths start turning their ideas into reality in May.
Initiated by YIY (Why I, Why) youth group with Banpu Public Company Limited as its sponsor, the Youth Innovation Marketplace 5, or "YIM 5" Project has encouraged new generation youths aged 18-30 years old from all across Thailand to pitch their social development ideas for a chance to receive funding early this year with "Believe" (Because we believe we can make a difference) as its key concept. The application period ended with a total of 164 project proposals submitted from all over the country.
After the thorough selection by a committee comprising of well-respected and renowned social development experts, the following 5 teams were awarded with project implementation fund.
1) Community-based Development Program for Children with Learning Disabilities Project, Petchaboon Province, by the Youth Development Teacher's Group of Lakdan District.
2) Reduction of Youth Violence Within The Erawan Group, Chiang Mai Province, by the "NDR" Youth Network
3) Life Skills Education for the Underprivileged, Chiang Mai Province, by the Panya Issara Institute (Freedom Wisdom Institute)
4) Learning Tools and Drum Performance for Deaf Students, Maha Sarakham Province, by Aoh-Poh Drama Club
5) Drama for Disabled Friends, Chiang Mai Province, by Chiang Mai University students
All granted projects under "YIM 5" shared one common goal: to improve lives in their communities, opening up more learning opportunities, raising spirits and putting more smiles on faces that are deprived of several things.
"The granted projects have been carefully selected by the committees who are experts in social development. Thus, we can be certain that all five programs are practical, innovative, and sustainable. The most important thing is, these projects are truly benefiting the communities," said Ms. Srisak Thaiarry, Executive Director, National Council for Children and Youth Development of Thailand (NYCD) under the Royal Patronage of HRH Princess Maha Chakri Sirindhorn and Chairperson the YIM Project.
16 members and project advisors of the five awarded projects joined the Orientation Camp held in late April at Salaya, Nakorn Pathom, to hone their project management skills in order to be ready to implement their social development projects starting in May. Each of the selected projects is receiving a grant of 130,000 Baht to be used for running their programs with targeted completion within 4-6 months.
Throughout the "YIM 5" period, all projects will have access to consultation and support from respected social development gurus, who will offer advice and suggestions that will help the projects efficiently achieve their goals.
Ms. Udomlux Olarn, Head of Corporate Affairs, Banpu Public Company Limited, the sponsor of the "YIM" Project since the beginning of "YIM 3," stated, "YIM is one of Banpu's Corporate Social Responsibility Projects, which is in line with Banpu's long-term CSR concept, "Banpu Education for Sustainability." From Banpu's perspective, education does not need to be limited to a classroom, and for Thai youth "YIM 5" opens up various learning opportunities, a variety of chances to unlock their potential and take it to another level. Participants can refine their management, teamwork, and problem-solving skills through project implementation. These skills and knowledge will be very valuable to these young people in the future."
"Banpu is glad to see that many youths, who are the vital force behind our nation's development, are turning their attention towards social problems, and seeking powerful new ideas to help alleviate them, creating a happier place for all of us to live. We hope that the YIM Project will be able to assist in developing and fostering social entrepreneurs," Ms. Udomlux concluded.