The social enterprise fair, Impact Day 2019, is back! Banpu organizes a day full of fun activities and announces this year's 5 winning socialenterprises
Banpu Public Company Limited, a leading integrated energy solutions company in Asia-Pacific with a focus on social sustainability and its partner, the non-profit institute ChangeFusion invites everyone who is interested in supporting social enterprises with positive impacts on society to join Impact Day 2019: A Creative Playground for Social Transformation. The event offers participants the opportunity to get to know the 5 winning social enterprises of this year's Banpu Champions for Change (BC4C) project, learn more about what it means to be a social enterprise and join a talk session with people who share a passion for solving social and environmental problems. A Thai craft fashion show, shopping for products and services and the chance to vote for your favorite social enterprise are also provided to the participants to enjoy. Impact Day takes place on Monday 4 November 2019 at Eden Zone, 1st Floor, Central World from 10.00 am onwards and the first 200 people, who register, will receive a 200 Baht voucher to spend at the fair.
Impact Day is now in its third year and continues to support social enterprises across the nation by giving them the space to introduce and sell their products and services to the public. At the same time, the fair aims to raise awareness among people with an interest in the social enterprise concept by inviting them to interact with experienced entrepreneurs. This year's fair will feature a number of activities including:
• The Announcement of the 5 outstanding social enterprises from Banpu Champions for Change #9
• A Market for Change, a flea market of the young generation with a goal to make a social and environmental change that features products from 24 social enterprises across Thailand
• Workshops hosted by social enterprises, including:
– Looking great in a Sarong by Atthalak
– How to brew Karen Tribe's tea by Heaven on Earth
– How to make Hmong Batik fabric by Craft de Quarr*
• SE.School Consultation, to give participants an idea of social enterprise*
• Ethical Crafts Fashion Show 2019, a fashion show from BC4C's SE alumni and under the theme: Can Thai crafts translate into high fashion?
• Learn how to operate a social enterprise sustainably through the Talk & Share "Secret to getting million sales, building a sustainable social impact" session facilitated by social enterprises Moreloop, Toolmorrow and Flow Folk
• Mini concert by Non Tanont
• Vote for your favorite Social Enterprise at the fair and/or on Facebook
The first 200 participants, who do the pre- registration at http://bit.ly/359LU60, are rewarded with a 200 Baht voucher. To find out more about the fair, visit https://www.facebook.com/banpuchampions
*Workshop by Social Enterprises and SE.School Consultation are only for pre-registered participants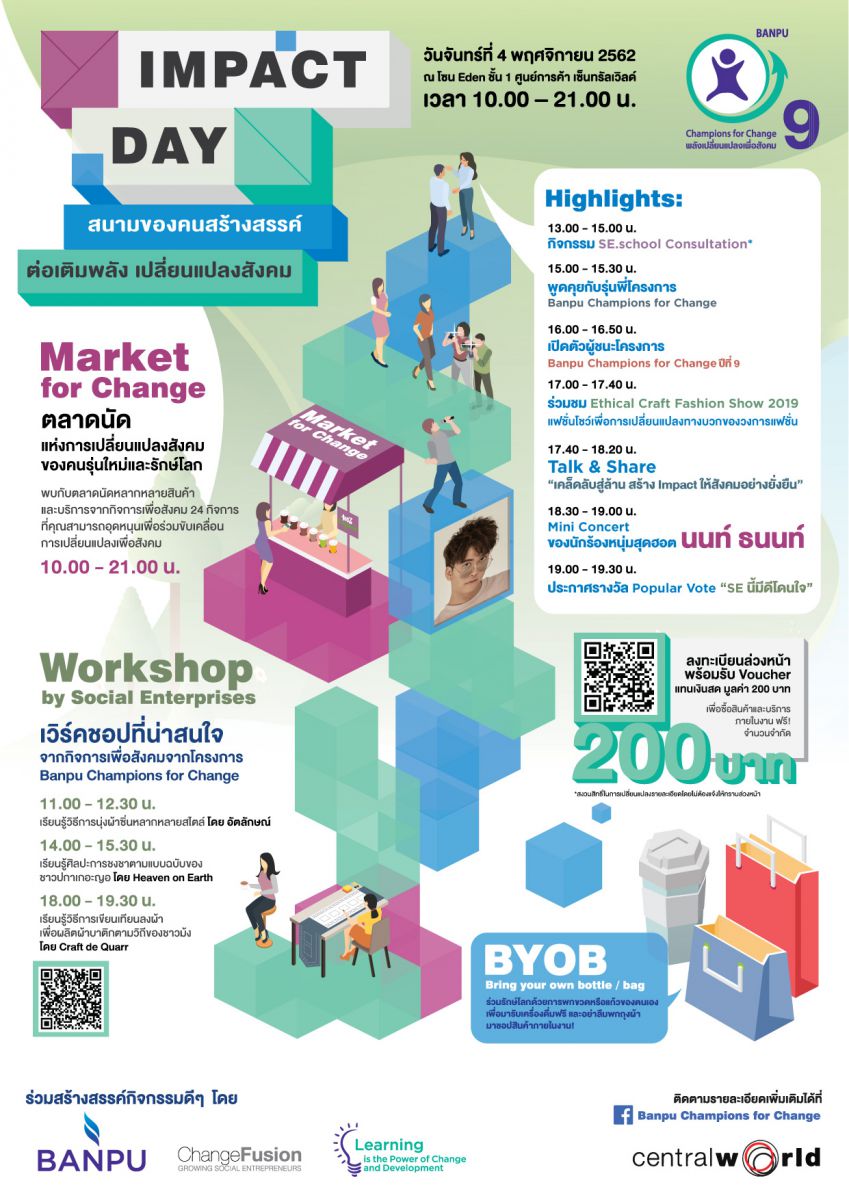 # # #
About Banpu Public Company Limited
Banpu Public Company Limited is a leading integrated energy solutions company in the Asia Pacific operating three core groups of businesses – energy resources, energy generation, and energy technology – in ten countries: Thailand, Indonesia, China, Australia, Lao PDR, Mongolia, Singapore, Japan, the United States of America and Vietnam.
"Learning is the Power of Change and Development"
Banpu's CSR and other social-oriented activities are based on the firm belief that "learning is the power of change and development" for people and society by emphasizing the promotion and development of continued "learning" among young people and communities in a number of ways. Banpu supports sustainable development of communities and society through a variety of learning opportunities for both individuals and teams, ranging from daily real-life experiences both in- and outside the classroom, to hands-on practice that enhances capabilities and skills.