The 10th "Banpu Champions for Change" is Calling for Applications!!! Banpu Unleashes the Passion of Young People in Growing Social Enterprises, Gearing Up for Stronger Network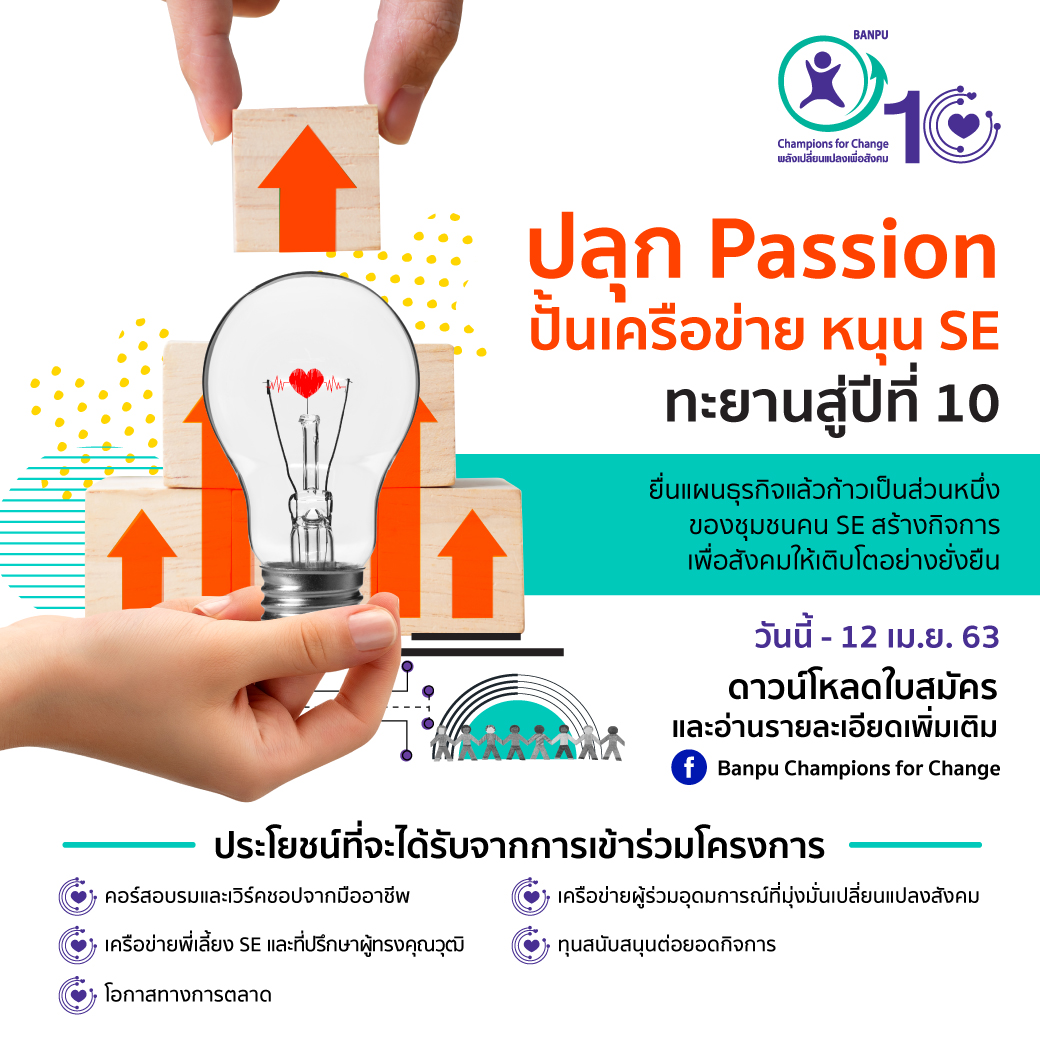 "If you're passionate about and have a potential business plan in improving the society, don't linger! Here comes the chance to become part of our Social Enterprise (SE) network.
Submit your application now until 12 April 2020."
Banpu Public Company Limited, a leading integrated energy solutions company in Asia-Pacific, with an aim of social sustainability, and ChangeFusion, a non-profit institute under the Thai Rural Reconstruction Movement Foundation under the Royal Patronage, have continued their collaborations to incubate and promote young social entrepreneurs through the Banpu Champions for Change Year 10 (BC4C#10) project, in order to search for new faces of entrepreneurs nationwide, either in the individual and the team-of-four category, with age range from 20 to 35 years. The project is now open for applications until 12 April 2020. Please check out Banpu Champions for Change Facebook page for more details. Moreover, do get yourself ready for a special event of SE School on Campus, a stage held both in Bangkok and the province, where people, be they entrepreneurs, students, or general public, can enjoy direct experiences shared by the successful social entrepreneurs, in order to connect SE School, an online learning platform to practice. Let's unleash your inspiration and enhance your business ideas to succeed in both economic growth and positive social impact for the society, community, and environment.
Mrs. Udomlux Olarn, Head of Corporate Communications, Banpu Public Company Limited, stated that "This year has already been the 10th year of the BC4C project. Banpu is one of the very first private organizations joining as an incubator to actively promote social enterprises. As Banpu can feel the passion of young people who are keen to be entrepreneurs having intention to tackle current social issues through business approaches, and we believe that "Learning is the Power of Change and Development", we don't want such passion and perseverance to vanish. So in addition to financial supports, we have focused on embedding and enriching entrepreneurial spirit, business skill development, and hands-on experiment for them. We have also facilitated continuous mentorship and knowledge sharing, even after the project in each year had ended. All BC4C alumni in the past nine years thus become a robust and strong community, which is ready to pass on their knowledge and experiences to the next-generation entrepreneurs. During the past few years, we had extended our
SE learning platform through SE School online and SE networking activities, which were not limited to only entrepreneurs, as they were also open for end consumers. This will be another goal of us in building an ecosystem that encourages SE growth as well as social betterment."
For the successful candidates of BC4C#10, they will be entitled to participate in workshops and trainings and gain advice from a multidisciplinary team of professionals. Moreover, they will also learn from the alumni about their experiences in various angles, including business plan development, marketing, financial management, and social impact assessment. Furthermore, other participants from the SE network will be there to help strengthen the enterprises to attain the sustainable growth.
For more details, please go to www.facebook.com/banpuchampions
Open for applications now until 12 April 2020.
Download the application from http://bit.ly/2Sk9G9J
For further inquiries, please contact: 087-075-4815, or banpuchampions@gmail.com
# # #
About Banpu Public Company Limited
Banpu Public Company Limited is a leading integrated energy solutions company in the Asia-Pacific operating three core groups of businesses – energy resources, energy generation, and energy technology – in ten countries: Thailand, Indonesia, China, Australia, Lao PDR, Mongolia, Singapore, Japan, the United States of America and Vietnam.
"Learning is the Power of Change and Development"
Banpu's CSR and other social-oriented activities are based on the firm belief that "learning is the power of change and development" for people and society by emphasizing the promotion and development of continued "learning" among young people and communities in a number of ways. Banpu supports sustainable development of communities and society through a variety of learning opportunities for both individuals and teams, ranging from daily real-life experiences both in- and outside the classroom, to hands-on practice that enhances capabilities and skills.