Banpu Continues Its 15th Year of Support to Build Educational Opportunities Donating THB 1.2 million to Strengthen Digital Capability of Schools in Southern Border Provinces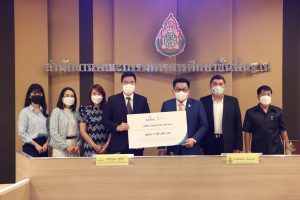 Banpu Public Company Limited, a leading international versatile energy provider, represented by Mr. Rattapon Sukhunthee, Head of Corporate Communications (fourth from the left), granted THB 1,197,360 financial support to improve education quality of 16 schools in the special development zone in the southern border provinces. On behalf of the Office of Basic Education Commission (OBEC) and the recipient schools, Mr. Niphon Kongveha, Assistant Secretary General of Office of the Basic Education Commission (third from the left), received the donation at the OBEC Meeting Room 1, 2nd Floor, OBEC 4 Building, the Ministry of Education. Administrators representing the 16 recipient schools also participated in this event via an online channel.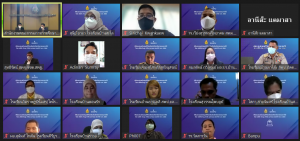 Firmly adhering to the philosophy, "Learning is the power of change and development," Banpu always puts an emphasis on education development through the financial aids to support schools in the special development zone of southern border provinces for 15 consecutive years with the initial aim to develop and support schools affected by political instability in the South. Even though the situation has changed, many schools in the area are still facing inadequacy of teaching and learning resources. On top of that, the COVID-19 pandemic has affected activities in those schools. This year, Banpu agreed to support 16 schools by focusing more on the budget for procurement of information technology (IT) equipment. Furthermore, Banpu provided support for teaching and learning materials, building improvements, vocation promotion and development, and health promotion in the schools.
###
About Banpu
Banpu Public Company Limited is an international versatile energy provider with 3 core groups of businesses: energy resources, energy generation and energy technology in 10 countries – Thailand, Indonesia, China, Australia, Lao PDR, Mongolia, Singapore, Japan, the United States of America and Vietnam.