BTTC Young Thai Rising Stars Shine in International Tournaments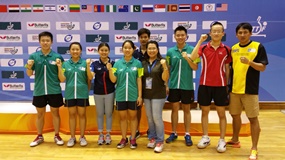 Young talented athletes from Banpu Table Tennis Club (BTTC) celebrated their success after participating in the 21st South East Asian Junior & Cadet Table Tennis Championships 2015 in Kuala Lumpur, Malaysia during June 18 – 21, 2015 and the 2015 China Junior & Cadet Open – ITTF Golden Series Junior Circuit in Taicang, China during June 23 – 27, 2015.
Our BTTC Member clubs received various awards from the competitions. For example, in Kuala Lumpur, Malaysia, Ms. Monapsorn Saritapirak won both the Cadet Girls' Doubles category, and the Cadet Girls' Team category; Mr. Suppakorn Watthanasirichaiporn won the Junior Boys' Team and Mr. Varote Shotelersuk won the Cadet's Boys' Team and he was the first runner-up in both the Cadet Boy's Singles and the Cadet Boy's Doubles Categories.
In the Taicang, China competition, Ms. Monapsorn Saritapirakwon was the second runner-up in the Junior Girls' Team Category partnered with Ms. Natkamon Khamkon, and reached the semi-final round of the Junior Girls' Singles Category. Also, Mr. Varote Shotelersuk was the second runner-up in the Junior Boys' Team Category.
In its 7th year implementation, BTTC has been providing opportunities for youth to develop themselves through table tennis which aim at cultivating them to be good sportsmanship, show discipline, learn to adapt to new environments and enhance their skill constantly. It is not only to help these young people to grow up and be both "ethical" and "skillful" person, this also will groom these young talented to have social responsibility, which in the end will lead to sustainable development.