"BES Project" enters its 10th year emphasizing the improvement of English communication skills for Thai young people to prepare them for AEC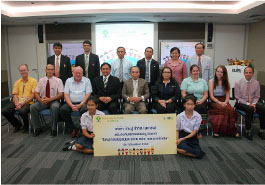 Bangkok – Banpu Public Company Limited has continued to run the 'Banpu Education for Sustainability (BES) Project' for 10 consecutive years, aiming to support the country's sustainable education development. To date, this project has granted around THB 30 million of financial support to six northern schools in Lamphun, Lampang and Phayoa provinces where Banpu's ex-operations were located in the past 30 years. The financial grant has been used for the improvement of learning system and facilities as well as the potency of students and teachers of these six schools BES' objective is to promote the " Integrative Learning" to Thai youth by stimulating lifelong self-learning habits and developing these schools into the "Community Learning Center" as well as upgrading the teaching standard. This will in turn enhance the learning opportunity and competency of both students and instructors.
Apart from a support on student's academic competency, moral and ethical values as well as living skills, this year which is the 10th year of the project, Banpu has continued to prepare Thai youngsters for the formation of the ASEAN Community in the next two years by employing native English teachers to teach English in the six participating schools. The 'Native English Teachers Program" has been run for two years. The purpose is to improve over 4,000 students' English communication skill in order to enable Thai young people to be the quality members of ASEAN community.