Banpu's SE School Promotes New Learning Experience Enhancing Stronger Social Enterprises and Announcement of 10 Finalists of "Banpu Champions for Change 8"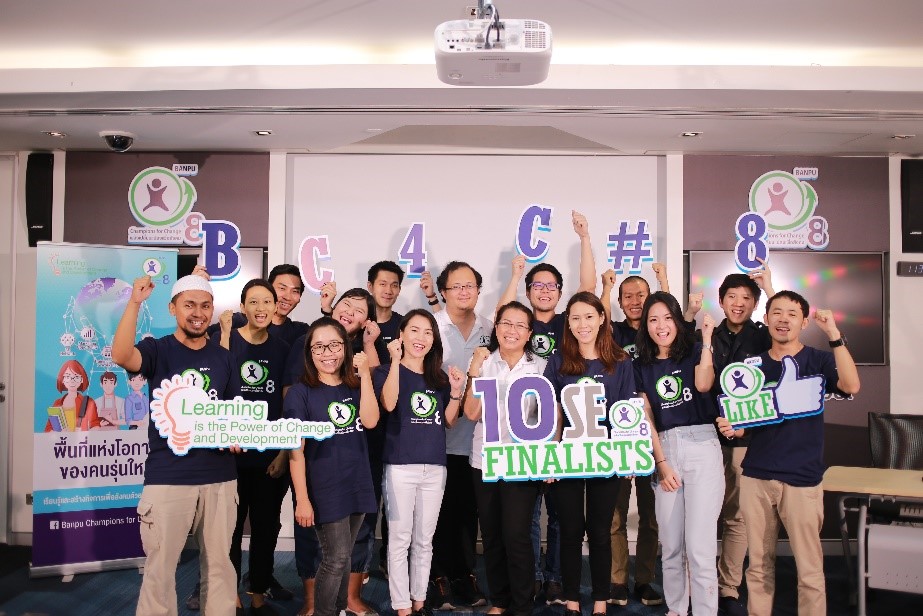 Earlier this year, young social entrepreneurs, aged between 20 and 35 years old had an opportunity to learn the fundamental knowledge of establishing a social enterprise through the SE (Social Enterprise) School, the first online learning platform in Thailand specifically designed for those who aim to bring about positive impact and changes to society through their businesses. Today, "Banpu Champions for Change 8 (BC4C#8)", initiated by Banpu Public Company Limited, a leading integrated energy solutions company in Asia-Pacific and its partner Change Fusion, a non-profit institute under the Thai Rural Reconstruction Movement Foundation under the Royal Patronage, announced the 10 finalists who will continue the next phase of the program. The 10 teams, chosen for their outstanding business models and passion to develop solutions to social issues, are in local craft and community development business, waste and environmental management business as well as financial business and social services business. They will each receive initial funding of 80,000 Baht in total to operate their businesses for three months before pitching in the final round in August 2018. The five champions will win a total of 1.25 million Baht further funding to support their business development in a long term.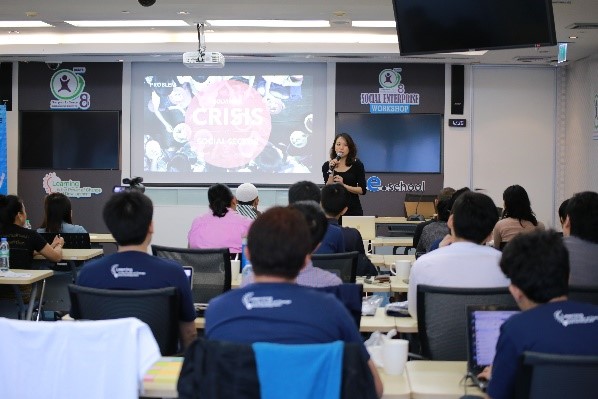 Pitching Skill Workshop by Aliza Napartivaumnuay, a BC4C#2 alumnus and the co-founder of Socialgiver.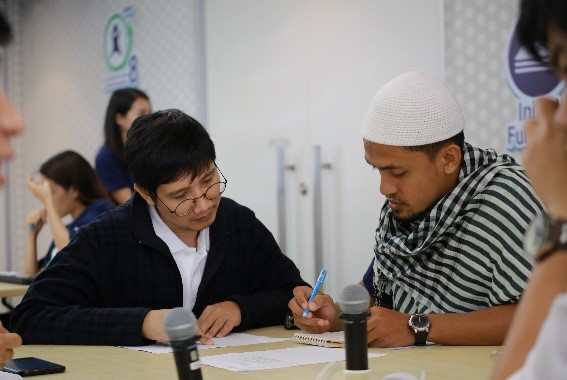 BC4C#8 participants during the workshop and business plan development session.
Mrs. Udomlux Olarn, Head of Corporate Affairs, Banpu Public Company Limited said: "This year, we have geared up the project to another level by introducing new elements and helpful activities that underlined Banpu's belief that "Learning is the Power of Change and Development". One of the new developments is the online learning platform, SE School, which forms a part of the applicants' selection process in order to equip the contestants from across Thailand with a profound understanding of social enterprise. The applicants also participated in the live consultation activity which allowed each team to consult with mentors with direct experience in social enterprises, who could help them apply the knowledge gained from the SE School in their business plans and models designed to solve social issues more effectively. The judging committee found that the new learning experience helped enable each team to take a more systematic and interesting approach to develop their business plans. In addition, they could clearly and creatively demonstrate how their plans would create a concrete and positive impact for society."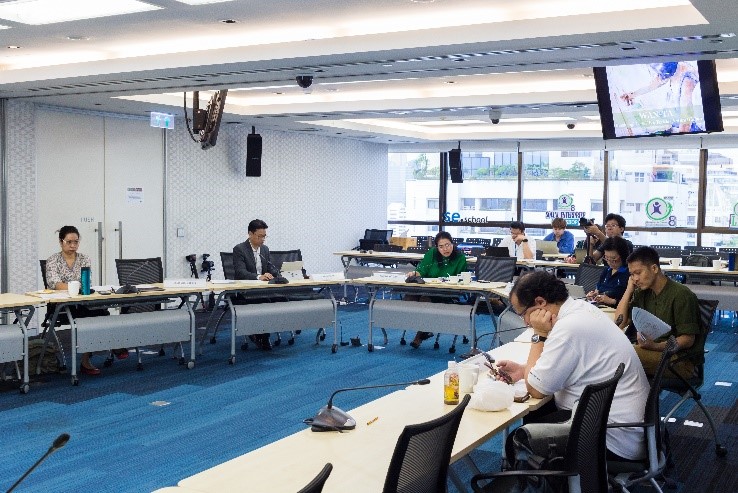 The judging committee for the selection of the 10 finalist teams (1st Pitching):
Ms. Pattaraporn Yamla-or, an expert in social enterprise impact assessment and social marketer,
Mr. Akra Udomsilp, independent investor,
Mrs. Udomlux Olarn, Head of Corporate Affairs, Banpu Public Company Limited,
Ms. Jareeya Chirdkiatisak, Senior Management, Banpu Public Company Limited,
Mr. Somsak Boonkam, BC4C#2 alumnus and founder of Local Alike,
Mr. Sunit Shrestha, Managing Director and founder of Change Fusion Institute
The 10 social enterprises that advanced to the next phase of "Banpu Champions for Change 8" aim to solve social issues in diverse aspects, as follows;
Local craft and community development;
Wan-ta – a producer and distributor of naturally dyed clothing products.  The business aims to create more income for the locals while increasing the community's woodland.
Oriental Kingdom – a social enterprise that aims to support career-building for various hill tribes focusing on the development and distribution of the tribes' unique woven fabric products, and on the delicate and unique designs to increase product value.
Craft de Quarr – a distributor of art and craft souvenirs from local artisans and designers. The business aims to resolve the lack of local handicraft successors while developing the community's economy.
Chao Kao Chao Rao – a developer and distributor of hill tribes' products whose target are to improve the design and market channels for the hill tribes' handicrafts and to generate sustainable income and career for hill tribe communities.
VT Thai – an online handicraft market place that connects local products with world-wide customers.  VT Thai markets Thai handicrafts through a compelling storytelling creating values and charm for local crafts.
Bunga Teh Tarik & Coffee – a tea and coffee shop franchise business for people in the three southern provinces whose career opportunities are restricted due to the insurgency.
Waste and environmental management business;
Refill Station – a retail business that aim to manage daily waste problems by reducing consumer goods packaging.  Refill Station allows customers to consume sustainably by bringing their own containers to refill products at the shop.
Waste.Space – an E-commerce distributor of industrial residues, especially textiles residues. The team target to make circular economy a reality and create value for discarded materials.
WEALTHI – a mobile application of a private financial business designed to solve the financial problems for underserved customers who are unable to access financial resource from financial institutes.
Social services business;
TACT – a sustainable CSR servicing and operation consultant who aims to develop youth skills and to solve the lack of resources in various entities through CSR projects as well as connecting collaboration among the government sector, the private sector and educational institutes.
The 10 social enterprise finalists will have three months to execute and test their business plans before the final pitching. The program will further support teams' business execution through the Mentor Matching process which connects the 10 teams with mentors, including BC4C alumni and experts in various fields such as business models, marketing, finance and accounting, branding, communications, laws, etc. The advice received from these mentors will help the teams work their weak points and strengthen their businesses. It will also promote sustainable businesses that create positive impacts to society.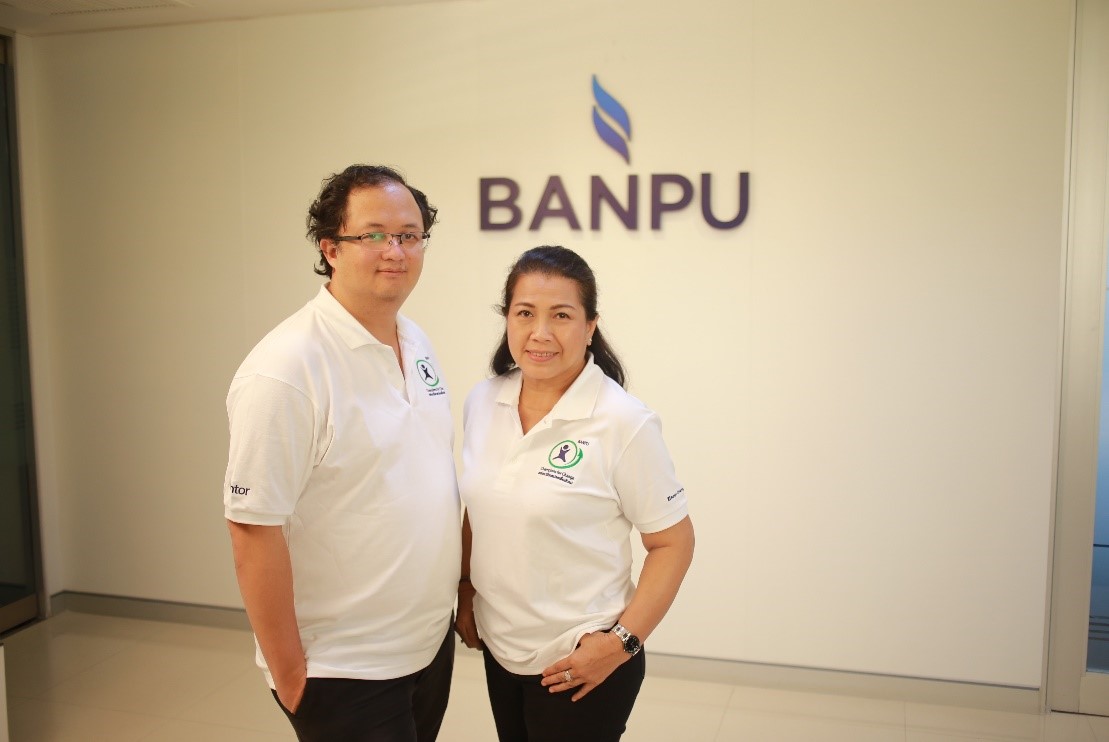 Mrs. Udomlux Olarn, Head of Corporate Affairs, Banpu Public Company Limited (right)
and Mr. Sunit Shrestha, Managing Director and founder of Change Fusion Institute (left)
For those who are interested in the latest activities and updates of the program, and in following the 10 SE finalists of Banpu Champions for Change 8 (BC4C#8), please visit www.facebook.com/banpuchampions
###
About Banpu Public Company Limited
BANPU is a leading integrated energy solutions company in Asia-Pacific, operating business in coal, power generation, and integrated energy sectors in ten countries; Thailand, Indonesia, China, Australia, Lao PDR, Mongolia, Singapore, Japan, the United States of America and Vietnam.
"Learning is the Power of Change and Development"
Banpu's CSR activities are based on the firm belief that "learning is the power of change and development" for people and society by emphasizing the promotion and development of continued "learning" among young people and communities in a number of ways. Banpu supports sustainable development of communities and society through a variety of learning opportunities for both individuals and teams, ranging from daily real-life experiences both in- and outside the classroom, to hands-on practice that enhances capabilities and skills.