Banpu Presents Sponsorships to Six Northern Schools for the 11th Consecutive Year, Supporting Thai Students to Learn English from Native-Speaking Teachers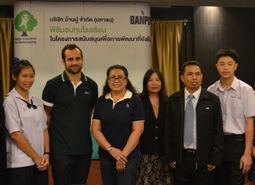 Banpu Public Company Limited, a leading energy company in Asia, represented by Ms. Udomlux Olarn (3rd from left), Head of Corporate Affairs, presented sponsorships to six schools in Northern Thailand for the 11th consecutive year under the project "Banpu Education for Sustainability" (BES). In the academic year 2014, Banpu's BES project emphasizes on enabling Thai students to improve their English communication skills by learning from native-speaking English teachers. The six participating schools include Chiang Muan Witthayakhom School and Baan Sa School in Phayao; Sop Prab Phitthayakhom School, Mae Tha Witthaya School, and Mae Tha Phatthana Suksa School in Lampang; and Wiang Chedi Witthaya School in Lamphun.
Over the past 11 years, Banpu's BES project has broadened the learning opportunities for more than 44,000 Northern students through a continuous stream of funding support and capacity development programs for both students and teachers, valued over 32 million Baht.