Banpu enhances "Banpu Champions for Change (BC4C)" Year 9 Expands opportunities and networks of passionate social entrepreneur nationwide Focuses on learning from direct experience and adds more practical lessons for next generation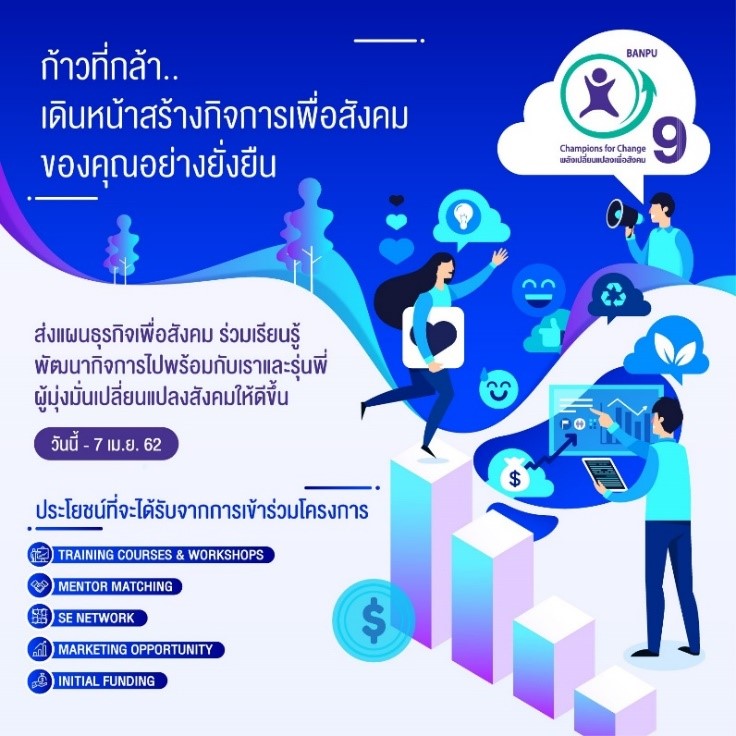 Banpu Public Company Limited a leading integrated energy solutions company in Asia-Pacific with a focus on social sustainability has once again joined with Change Fusion, a non-profit institute under the Thai Rural Reconstruction Movement Foundation under Royal Patronage, in continuing the Banpu Champions for Change 9 (BC4C#9) project. This year, the highlight activities focus on expanding knowledge about social enterprises among young entrepreneurs nationwide. The SE School (Social Enterprise School), Thailand's first online learning platform, is open to anyone interested in learning about social enterprise. This year too, many new useful lessons will be added to the SE School, making it even more beneficial to entrepreneurs and creating a better understanding of the operations of social enterprises.
Mrs. Udomlux Olarn, Head of Corporate Affairs, Banpu Public Company Limited, said: "Banpu believes that there are still many young social entrepreneurs eager to develop their business techniques and create positive change for society, community and environment. For this reason, Banpu and Change Fusion are continuing to support and develop activities for BC4C for the ninth year. We recognize the importance of the internet as a tool in searching for knowledge, and we are continuing to develop and create new curricula for the SE School. Moreover, using Banpu's extensive human resources, funding and BC4C's strong alumni network, we will organize a road show to Udon Thani, Chiang Mai and Songkhla to spread the knowledge about social enterprise to the young generation in a wider area and expand BC4C's social entrepreneur network. Entrepreneurs who participate in the program will also have a chance to attend many workshops led by experts and consultants in various fields, in line with Banpu's belief that Learning is the Power of Change and Development."
The results of BC4C studies clearly show that the social enterprises joining with BC4C program have a higher survival rate of about 50% compared with the total social enterprises in Thailand, of which the survival rate is around 10%. This is because they have received advice and the opportunity to attend workshops and training from experts and BC4C alumni in various aspects including business development planning, marketing, financial management and social impact assessment. Moreover, the BC4C social entrepreneur network has helped strengthenBC4C participants' businesses and put them on the path to sustainable growth.
Applications for BC4B#9 are open from today until 7 April 2019 to new-generation entrepreneurs between the ages of 20 and 35 from all over the country, both individuals and teams of up to four people. Interested entrepreneurs can submit a business plan to win a chance to receive initial and long-term funding to support their operations of more than two million baht throughout the program.
Interested candidates can find more information at www.facebook.com/banpuchampions
Applications open: 25 January – 7 April 2019
Application forms can be downloaded at: https://bit.ly/2iZBAbe
For further inquiries, please contact 087-075-4815 or email banpuchampions@gmail.com
###
About BANPU
Banpu Public Company Limited is a leading integrated energy solutions company in the Asia Pacific operating three core groups of businesses – energy resources, energy generation, and energy technology – in ten countries: Thailand, Indonesia, China, Australia, Lao PDR, Mongolia, Singapore, Japan, the United States of America and Vietnam.