Banpu Champions for Change Project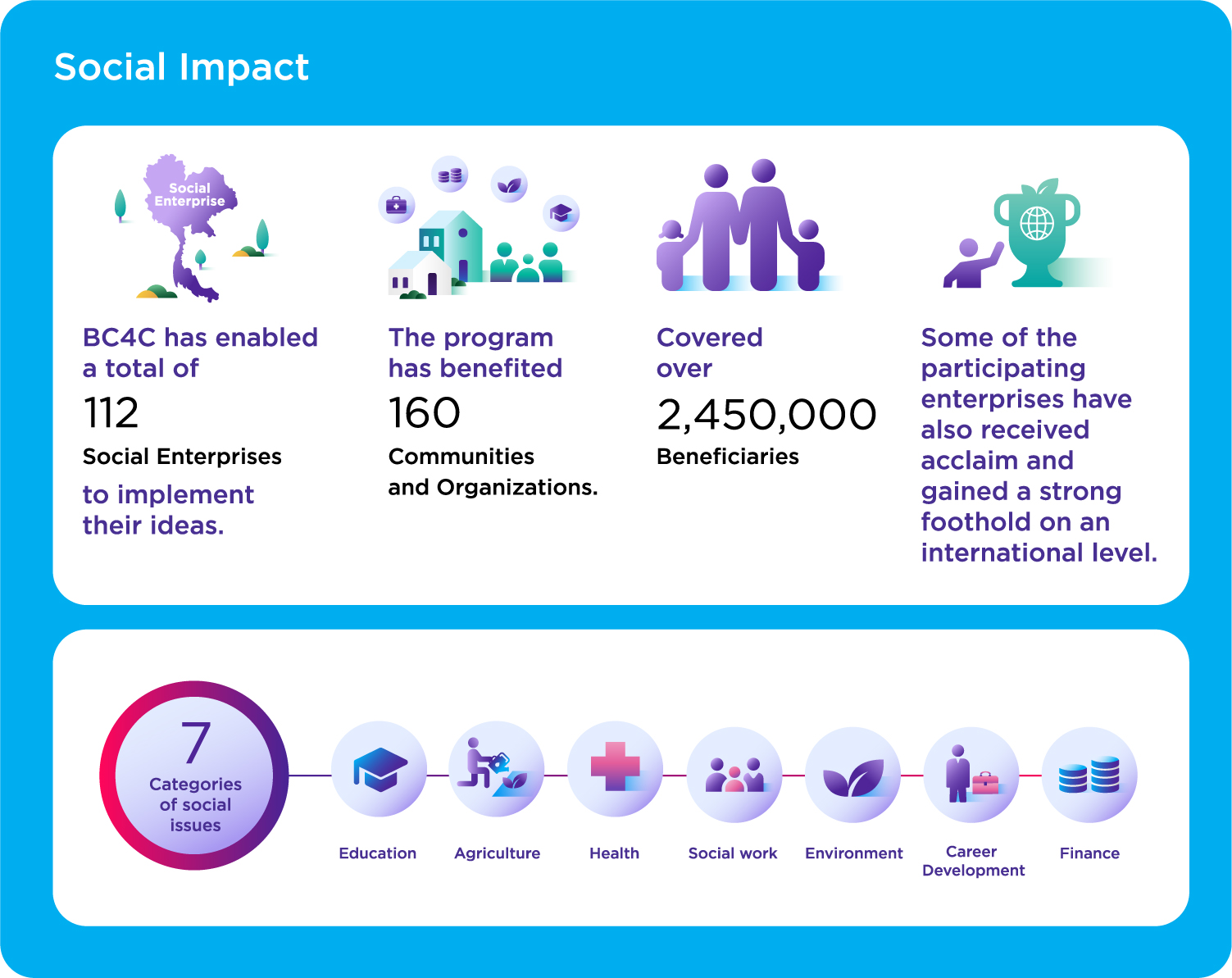 The Banpu Champions for Change (BC4C) project was launched in 2011 to promote young social entrepreneurs who are full of creativity and potential to change society for the better. It is aimed at encouraging participants to make a feasible business out of ideas and create positive impact on the society, community and environment by developing an understanding about how the operation of social enterprises needs to comply with moral and ethical principles. It is the project's main objective to support young entrepreneurs to run businesses based on ethical values and foster an environment conducive to the growth of social enterprises, leading to empowerment of a quality society and a strong and sustainable economic foundation for the country.
BC4C encourages participants aged 20-35 nationwide to form a group of maximum four members and propose their social enterprise business plan that helps solve social issues or improves the quality of the society, community or environment. Qualified teams will be provided with support from the program, including incubation, consulting services as well as skill development opportunities through workshops with professional speakers and mentors from various fields such as management, finance and social and environmental measurement.
The BC4C project has established Thailand's first online Social Enterprise School (SE School) where users can find knowledge and a range of courses on social enterprise. Participants of the project as well as the general public who are passionate about entrepreneurship can join the online platform and learn about ways to grow the business and contribute to positive changes and impacts in the society.
The outstanding projects receiving support from Banpu during the six months of the second phase of the program are as follows.
2011 "Banpu Champions for Change 1"
Kon.Jai.Baan – A group of community architects in the North who serve their community by designing buildings that incorporate cultural heritage, environmental concerns and community participation to develop practical designs that yield maximum benefits.
Freedom Solution – A team of students from The Redemptorist Vocational School for People with Disabilities (RVSD) in Pattaya formed to provide IT services, such as web programming and database development. A portion of the profit from the operation will be donated to the school.
A-chieve – A helping group formed to assist and inspire high-school students in deciding on their future education through the activity called "Where do you grow up to?".
A survey among professionals in several fields of work from which a career database would be created was also conducted. The information is now available on the website.
Sputnik Tales – A team of social-minded animation artists which focuses on producing media on social issues for not-for-profit and for-profit organizations. The aim of the project is to promote social development ideas through animations which the younger generation can easily relate to.
2012 "Banpu Champions for Change 2"
Klongdinsor – A team of developers of educational materials for the blind aiming to improve their learning in various subjects.
Local Alike – A new-generation team of designers and community fieldworkers in the North of Thailand who strive to improve the quality of homestay tourism by setting the standards for participating homeowners and to help develop online sales and marketing channels for them. The project's purpose is to raise income and to better respond to tourists who seek authentic community experience through travelling.
Deejai – A group of educational fundraisers for elementary schools nationwide that experience a shortage of learning materials, sports equipment and other necessary materials. To help the students, the team conducted field surveys, selected schools, gathered information as well as opened an online fundraising platform where the public can participate in the donation.
Social Giver – Initiated by the "mysocialmotion" group, this fundraising project connects public organizations with donors and private companies in each fundraising effort. Donors receive many kinds of reward from private companies such as complementary rooms from hotels, gift vouchers from restaurants, etc.
2013 "Banpu Champions for Change 3"
Go Went Gone – Young social entrepreneurs help people develop community-specific products from local resources. The team is poised to assist in terms of design and related skills while seeking markets and business partners for the communities. The project aims to preserve local wisdom and increase income for local people.
Hope Wear – A shoe-making business specializing in producing high-quality, affordable and healthy footwear for the elderly. Part of the income are used for manufacturing heathy shoes for the elderly in need.
Be Greening – This group of young entrepreneurs produces biodegradble food containers made from spathes of betel palm as substitute for Styrofoam, which takes many years to decompose and is harmful to health. The project's goal is to reduce the number of non-disposable waste as well as to improve consumers' well-being.
Wo-Manis – A collaboration of young people to generate income for widows who lost their husbands from political unrest in Pattani province. The widows are hired to make Hijabs, scarves and handkerchiefs with Wo-Manis's assistance in design and sales channels.
2014 "Banpu Champions for Change 4"
HIVE – It is a community tourism enterprise that provides fun and exciting activities in a unique way while preserving social and cultural values and the environment. These activities, together with Apps for tourists, are shown on HIVE website. HIVE aims to help local communities generate extra income from tourism while reducing negative impacts of tourism and promoting Thai culture to foreigners at the same time. Part of the profit goes to support budding entrepreneurs who would like to pursue the same path and to develop the society.
Ma:D – A collaborative community for aspiring social enterprises, Ma:D provides co-working spaces, as well as organizes events and workshops on social issues. This collaborative community serves as a platform for networking, learning and knowledge sharing for sustainable development of social enterprises.
Winphysics – A physics tutorial website offering various learning materials such as videos and online games, Winphysics provides Thai students with equal opportunity to international standard curriculums. It also keeps track records of students in each school, helping teachers in developing teaching techniques that meet the students' needs.
Wyn – Wyn serves as a digital service portal focused on channeling jobs to young freelancers, such as students, college students and people with disability. It gives them the opportunity to learn, develop skills, generate income, and gain experiences in graphic design, mobile application and web development that can lead them to a solid digital career path in the future.
2015 "Banpu Champions for Change 5"
Happy Field Happy Farm – The social enterprise serves as a distribution channel for agricultural products from Namcham district in Phrae province with an aim of enhancing the quality and standard of local farmers' produces. The process starts from improving rice farming methods, rice processing and branding to increasing farmers' opportunities, encouraging their bargaining power in both domestic and international markets as well as improving their competitiveness. The first product launched with the support from the project is weevil-free germinated brown rice.
Hand Up Network – The agency serves as an intermediary linking businesses with social organizations in order to collaboratively solve social issues, share knowledge and improve skills. Hand Up Network helps corporates analyze and design developmental approaches in a social context and study the feasibility of projects that promote skill-based volunteers. The goals of these projects are to drive enhanced skills among volunteers from the business sector and to help strengthen the organization's capacity to operate efficiently.
Toolmorrow – An online TV program produced to teach moral lessons to children through fun and thought-provoking social experimental videos that undermine false beliefs, such as "Smoking is cool" and "Alcohol can heal heartbreak".
Earth Dezign – A distributor of children's environmentally friendly food containers and eating utensils made from corn-based and bamboo mushroom-based plastics while providing them with guidelines on how to prepare healthy kid-friendly meals. The products are known for their modern designs that help encourage children to eat more vegetables and nutrient rich foods. Additionally, the enterprise also donates part of the profit to orphanages and foundations.
2016 "Banpu Champions for Change 6"
TP Packaging Solutions – A distributor of environmentally friendly packaging solutions aimed to reduce foam use for better environment and consumer health.
Relationflip – A professional psychologist online platform aimed to encourage and facilitate public access to mental health counseling services.
We Listen (formerly Peace by Piece) – An online platform providing trained volunteers who act as active listeners for people with stress with an aim to alleviate depressive illness problem.
Yellow Hello – A manufacturer of organic soy milk which utilizes byproducts of soymilk production for useful purposes, such as animal feed and fertilizer, in order to promote zero waste in the supply chain and mitigate environmental issues.
The Guidelight – An audio book library for the blind aimed at creating equal access to self-improvement and career opportunities as well as educational resources
2017 "Banpu Champions for Change 7"
PukDone – Agricultural products made from organic waste with the aim to improve waste management and solve environmental problems
FarmTO – An online marketplace for agricultural product pre-ordering aimed at solving price drops, creating new distribution channels and enhancing the farmers' quality of life
BhuKram – Indigo-dyed cotton products made by a Sakon Nakhon local community aiming to create jobs and encourage positive attitude among community members
Art for Cancer – An opportunity for cancer patients to secure jobs to earn a living, stay motivated and have a proper understanding about cancer
Heartist – A brand of knitted bags made by people with brain disorders, Heartist provides social-emotional development therapy for people with disorders while creating jobs and generating income for their families.
2018 "Banpu Champions for Change 8"
Vanta – A producer and distributor of naturally dyed clothing, Vanta aims to create income for locals while encouraging planting in the community's forest resources.
Craft de Quarr – A distributor of arts and craft from local artisans and designers, Craft de Quarr aims to solve the lack of local handicraft successors and improve the economy.
Gonfai – A developer and distributor of products crafted by hill tribe artisans aiming to grow the handicraft market and create sustainable income and secured jobs for the people
Refill Station – A retail business founded to address waste management issues by reducing the daily use of packaging, Refill Station provides waste-free access to products to consumers who can bring their own containers to refill at the shop.
WEALTHI – The mobile application of a private financial business designed to solve financial problems experienced by customers who are unable to access funding resources from financial institutes
2019 "Banpu Champions for Change 9"
Peang Jai – A producer and distributor of bedding and cushions made from Khaokhiris's scrap rubber, Peang Jai aims to support the elderly and teenagers in Kamphaeng Phet province in their career so they can make a living for themselves and for their families.
Heaven on Earth – Heaven on Earth is a producer and distributor of products from processed tea leaves planted in the forested areas of Huay Hin Lad Nai Village, Chiang Rai province, which have recently been rehabilitated after years of monoculture and are once again fertile.
Younghappy – A service business for the elderly community that aims to prevent them from becoming bedridden patients, Younghappy supports senior citizens to socialize with elderly friends in activities that are fun, educational and suitable for their age.
Orgafeed – A producer and distributor of insect-based dog foods, Orgafeed's mission is to make use of organic waste that otherwise would be destined for an economic loss as insects can be useful in organic waste management and a source of high-quality protein.
Attaluck – A producer, designer and distributor of souvenirs made from clothing that are then supplied to local enterprises in the northeastern region of Thailand, Attaluck aims to provide single mothers with jobs and help them earn a living for themselves and for their families.
Read More