Banpu-Mahidol ignites youth energy through the "Power Green Camp 17" 50 students joined to the camp to learn and find solutions for environmental problems; Creating environmental science project under the theme "Climate Change, We Must Change"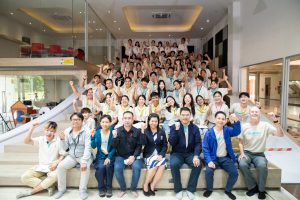 Banpu Public Company Limited, a leading international versatile energy provider, together with the Faculty of Environment and Resource Studies, Mahidol University, succeeded in organizing the Power Green Camp 17 under the theme "Climate Change, We Must Change." 50 high school and vocational students from 50 schools in 40 provinces were selected to join the camp to learn about climate change, both in theory and in practice by visiting different areas for in-dept learning. They would bring knowledge from the camp to create a project to solve environmental problems in a systematic, scientific way. The camp was conducted on October 15-25, 2022.
For the 17th edition of Power Green Camp this year, the focus was on youth learning about a variety of climate change issues through different field activities, namely: 1) exploring Ban Khun Samut Chin, Samut Prakan province, to study coastal erosion. 2) learning about the conservation of biodiversity and environmental quality suitable for the habitat of fireflies at Amphawa District, Samut Songkhram province. 3) mangrove planting activity at Bang Taboon Wittaya School, Mangrove Forest Conservation and Learning Center, Phetchaburi province, to increase ​​mangrove forest which is a carbon reservoir 4) learning climate change impact on geological structure at Khao Ngoo Rock Park, Ratchaburi province and Krasae Cave, Kanchanaburi province and 5) forest area survey on the biodiversity of forests and learning activities in the laboratory at Mahidol University, Kanchanaburi Campus.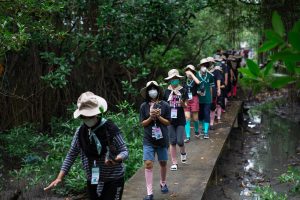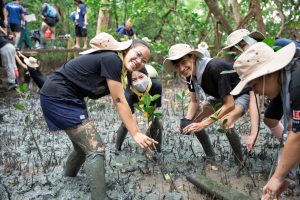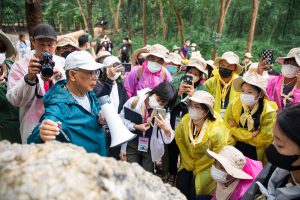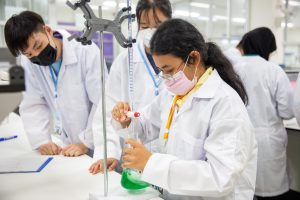 Mr. Rattapon Sukhunthee, Head of Corporate Communications, Banpu Public Company Limited, said "What has always clearly perceived over the many years that Banpu has organized the Power Green Camp is the determination of young students who were passionate to learn and participate in environmental preservation. We are glad that this camp has given the opportunity for the youngsters to learn and have great experience outside their classroom, particularly how they were allowed to spend some time with friends from different places and learn to adapt to new environment and new people. Banpu is committed and will continue to organize the Power Green Camp in order to create a network of youth that will become an important force in the future of environmental conservation both in our country and in the world."
After having learned both theory and practiced, all students have brought the knowledge gained from every activity to create a group environmental science project and present it to the camp committee as well as the public through online channels under the topic "Climate Change, We Must Change". The project that won the first prize and the "Popular Vote" was the "All Nature Sanitary Napkins" project. The team came up with the concept of sanitary napkins made from natural materials that shortens the decomposition time and is environmentally friendly. This is not to mention how it is also made from agricultural waste that does not have to be incinerated but, instead, we can still add more value to it.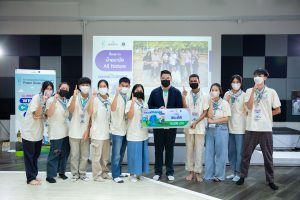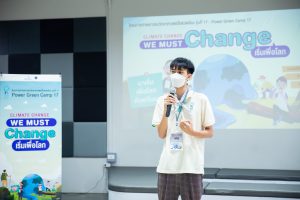 Pat-Naphat Prungsripanya, a twelfth-grade student (Mathayom 6) from Kaen Nakhon Wittayalai School, a representative of the winning team, said, "I'm extremely happy to receive the award because making this project is not easy. We all work very hard to make the project the best it can be. Joining the Power Green Camp this year, it allows me and my friends to learn something new. Personally, I always have been interested in environmental issue because my home is a learning center for community environments. Therefore, I think that the knowledge I took from the camp can be applied to my life. In addition to starting from yourself, we can also bring what we learnt from the camp to share with people to allow others to realize that to preserve the environment is very important to our daily life."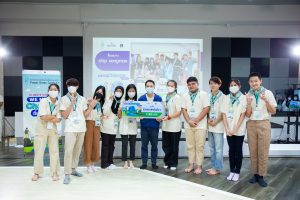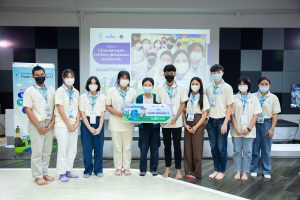 The first runner-up prizeto "Ship Seagrass" project that came up with the idea of ​​a boat planting seagrass under the sea. It aims to increase the chances of survival for seagrass and create more balance to the marine environment The second runner-up prize was awarded to the "Bioplastic Mulching from Chitosan water, hyacinth and cassava fibers" project. Its concept is to bring natural fibers to produce a plastic-like sheet to be in use as soil cover. It aims to reduce the amount of plastic usage that takes a long time to decompose.
"Banpu believes that "the power of knowledge is the power of change and development", we see great importance to support learning from a variety of experiences that cannot be found only in the classroom as well as cultivating the concept of environmental conservation in order to take care of our planet for a sustainable future. This is in line with the ESG Principles that the company has committed and has been adhering to in our business for almost 40 years," concluded Mr. Rattapon.
Follow the news and information of the "Power Green Camp" at
Facebook: www.facebook.com/powergreencamp
###
About Power Green Camp
The "Power Green Camp" has initiated in 2006 and operated continuously since then under collaboration between Banpu Public Company Limited and the Faculty of Environment and Resource Studies, Mahidol University. Through the concept of "Environmental Science – Learning to Practice", which initially focuses on allowing students to learn about environment and natural resources, The camp aims to encourage them to love and cherish nature as well as applying scientific knowledge they have from the camp to systematically solve environmental problems, while becoming leaders and building a strong network of protecting the environment in the future.
About Banpu
Banpu Public Company Limited is a leading integrated energy solutions company with 3 core groups of businesses: energy resource, energy generation and energy technology in 10 countries — Thailand, Indonesia, China, Australia, Lao PDR, Mongolia, Singapore, Japan, the United States of America and Vietnam.