Interesting New "Globe Animation 2" Environmental Science VCDs Now Available for The Public Free of Charge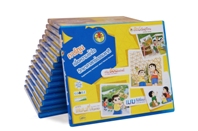 After the success of the "Globe Animation 1" VCDs, the learning aid about surrounding natural science study for primary students, which generated high demand from schools and interested persons nationwide, the Institute for the Promotion of Teaching Science and Technology (IPST) and Banpu Public Company Limited, have produced "Globe Animation 2" VCDs including four stories namely, "Clouds Have Names", "Is It Hotter And Hotter?", "Let's Make a Map" and "Animal Lands". The "Globe Animation 2" VCDs will be used as the environmental science material for needy elementary schools and the Border Patrol Police schools nationwide.
The "Globe Animation 2" VCDs are now available for the public upon request with free of charge. Parents and interested individuals can call for free copies at tel. 02 694 6646, Monday – Friday, 09.00 – 16.00 hrs. from now on.