Chinese coaches provide intensive tutoring for Banpu Table Tennis Club players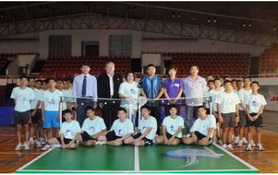 TU Rangsit – 11 October 2010: The Banpu Table Tennis Club (BTTC) recently opened the "More Tutoring More Energizing" training camp to hone the skills of BTTC players. Leading Chinese coaches from the Zhengding National Table Tennis Training Center (ZNTTTC), which is one of a handful of national level table tennis training facilities in the PRC were invited to provide a special training session during October 11-25, 2010 at Gymnasium 6, the Sport Service Center, Thammasat University Rangsit Campus. The BTTC athletes will gain direct experience via the intensive training program exclusively provided by the highly qualified coaches from China, the world champions in table tennis. This training camp is organized for the first year for BTTC athletes, in addition to an annual special training session in China during Thailand's school holidays in summer.
From left to right: Mr. Chaiyuth Sereerat, Assistant Director of the Thammasat Sports Service Center, Mr. Piradej Pruttipruk, President of the Table Tennis Association of Thailand, Mrs. Udomlux Olarn, BTTC Manager; Mr. Cheng Hongliang, Men's Team Head Coach and Ms. Cheng Xiuling, Coach from ZNTTTC as well as Mr. Vichai Ngambenjawong, BTTC Head Coach.