Banpu reports strong performance in 2022 with profit of USD 1,162 million Stepping into the 40th year with ambition to power the better living for all
Net profit tripling and continuing to accelerate business transformation under the Greener & Smarter strategy.
Celebrating 40 years of providing energy sustainability and taking the business to the next level of growth to create value for stakeholders and power the better living for all.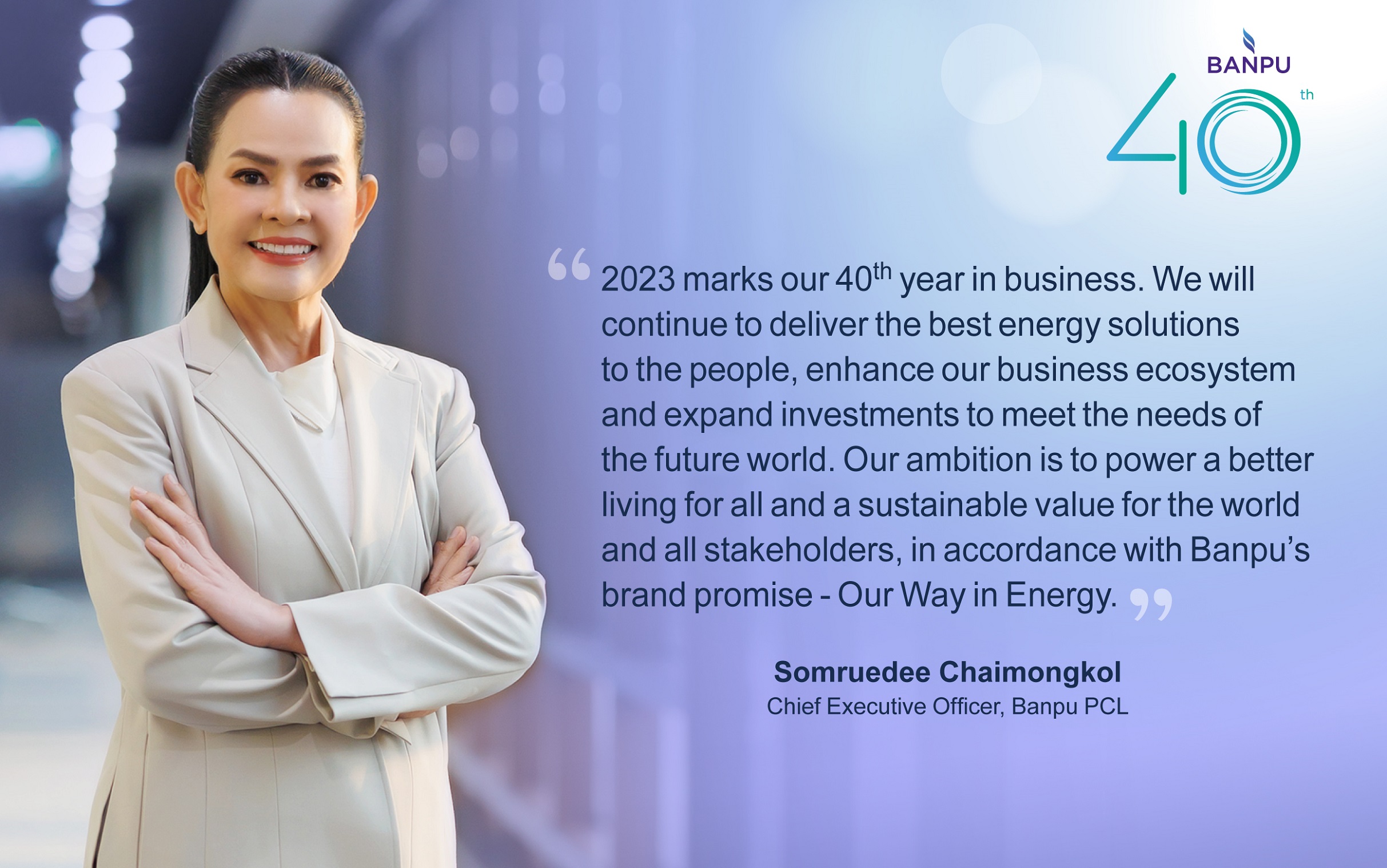 Banpu Public Company Limited, a leading international versatile energy provider, reported its performance results for 2022, with total sales revenue of USD 7,693 million (approximately THB 272,270 million), an increase of USD 3,570 million (approximately THB 139,080 million), equivalent to 87% increase from the previous year; earnings before interest, taxes, depreciation and amortization expenses (EBITDA) of USD 3,916 million (approximately THB 137,300 million), an increase of 120% from the previous year; and net profit of USD 1,162 million (approximately THB 40,519 million), an increase of 282% from the previous year. The performance was primarily driven by rising energy commodity prices globally and the Company's strategy to operate business with agility and flexibility, enabling it to capitalize on the upside from rising energy commodity prices in order to generate strong profit and cash flow. In 2023, Banpu will continue to accelerate its business transformation under the Greener & Smarter strategy to deliver a smarter energy for sustainability.
Somruedee Chaimongkol, Chief Executive Officer of Banpu Public Company Limited said that "2022 was the year of record-breaking performance for Banpu, with our net profit tripling compared to the previous year. The remarkable result was driven not only by the upside from high energy prices, but also our focus on agile and flexible operations in all business units, as well as our extensive efforts in accelerating business expansion in line with the Greener & Smarter strategy over the recent years. This has enabled us to generate a constant revenue growth from our greener energy assets, such as the expansion of natural gas businesses in the US. and energy technology businesses in Asia Pacific. Concurrently, we have incessantly explored new business opportunities in both energy-related businesses, which are our core strength, and non-energy businesses to create new S-curve businesses. Sustainability also has been at the heart of Banpu's business. In 2022, Banpu was selected as a member of the Dow Jones Sustainability Indices for the ninth consecutive year and, most recently, was included in the MSCI Global Standard Index, which reflects strong confidence from international investors."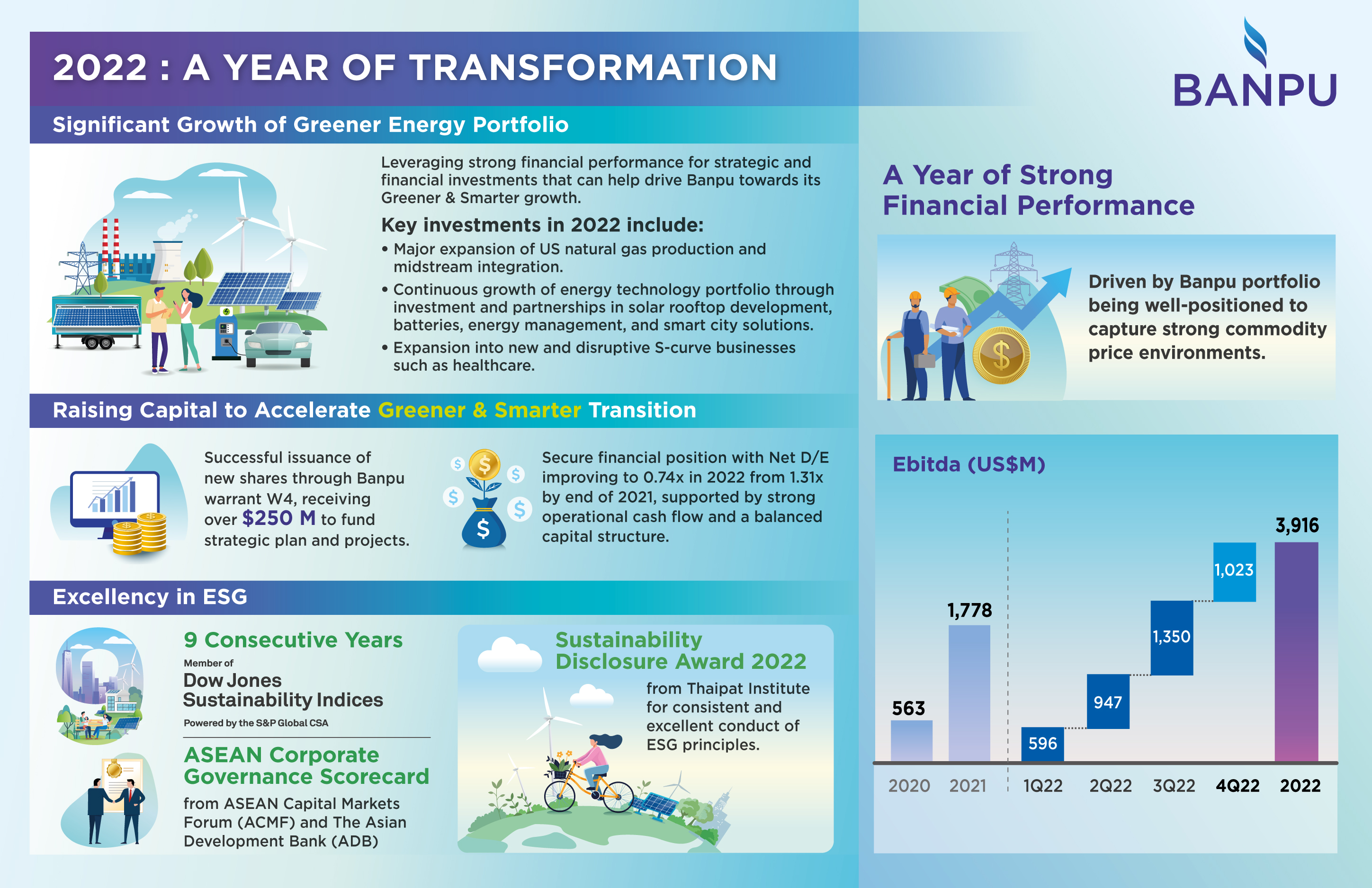 With 2023-2025 strategy, the Company will continue to grow business in line with the Greener & Smarter strategy by setting key directions for its three core groups of businesses as follows: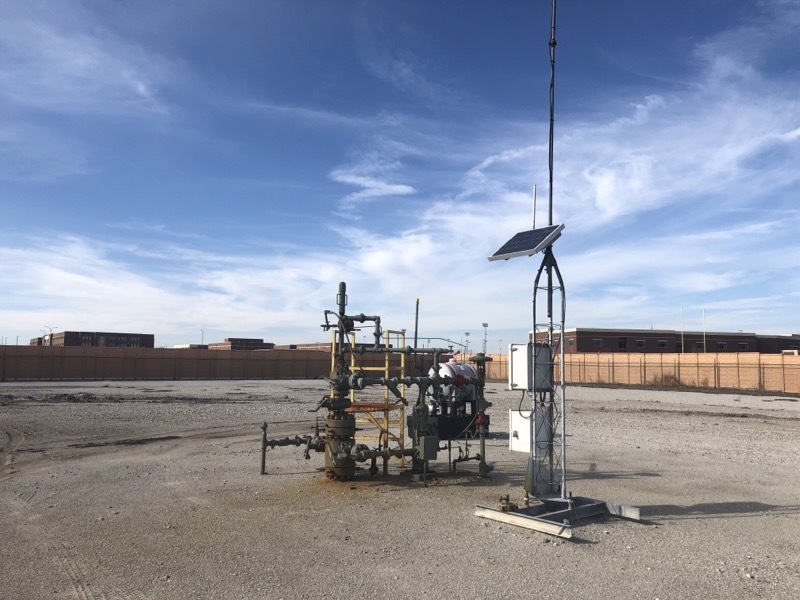 Energy Resources – Mining business – continues to operate business with responsibility to all groups of stakeholders, with focus on production efficiency to deliver high quality products, as well as conduct study on new investments in businesses with high growth potential such as strategic minerals. Gas business – maintains industry leadership in natural gas production in the US market, seeks new opportunities in new businesses that strengthen and complement existing businesses, develops carbon capture and sequestration projects, and takes concrete actions to achieve the goal of Net Zero Scope 1 and Scope 2 for upstream gas production by the end of 2025.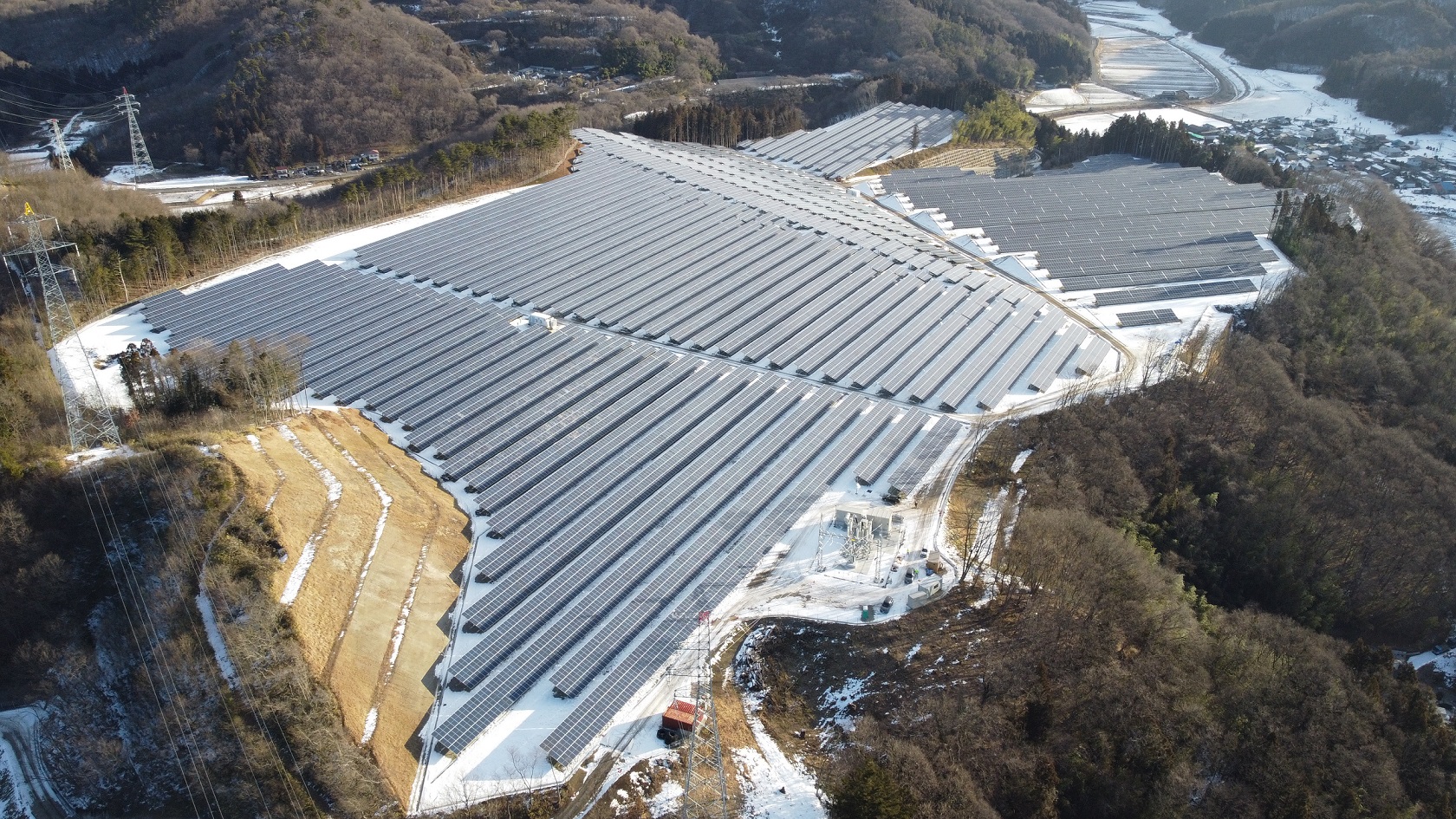 Energy Generation – Thermal Power Generation business – maximizes value and efficiency of legacy assets to generate a steady cash flow, with focus on value enhancement across US electricity value chain including electricity retail and trading capabilities in merchant markets, as well as investment opportunities on new HELE (High Efficiency, Low Emissions) power plants. Renewable Power Generation business –seeks new investment opportunities on high-growth geographies aligned with Banpu's presence.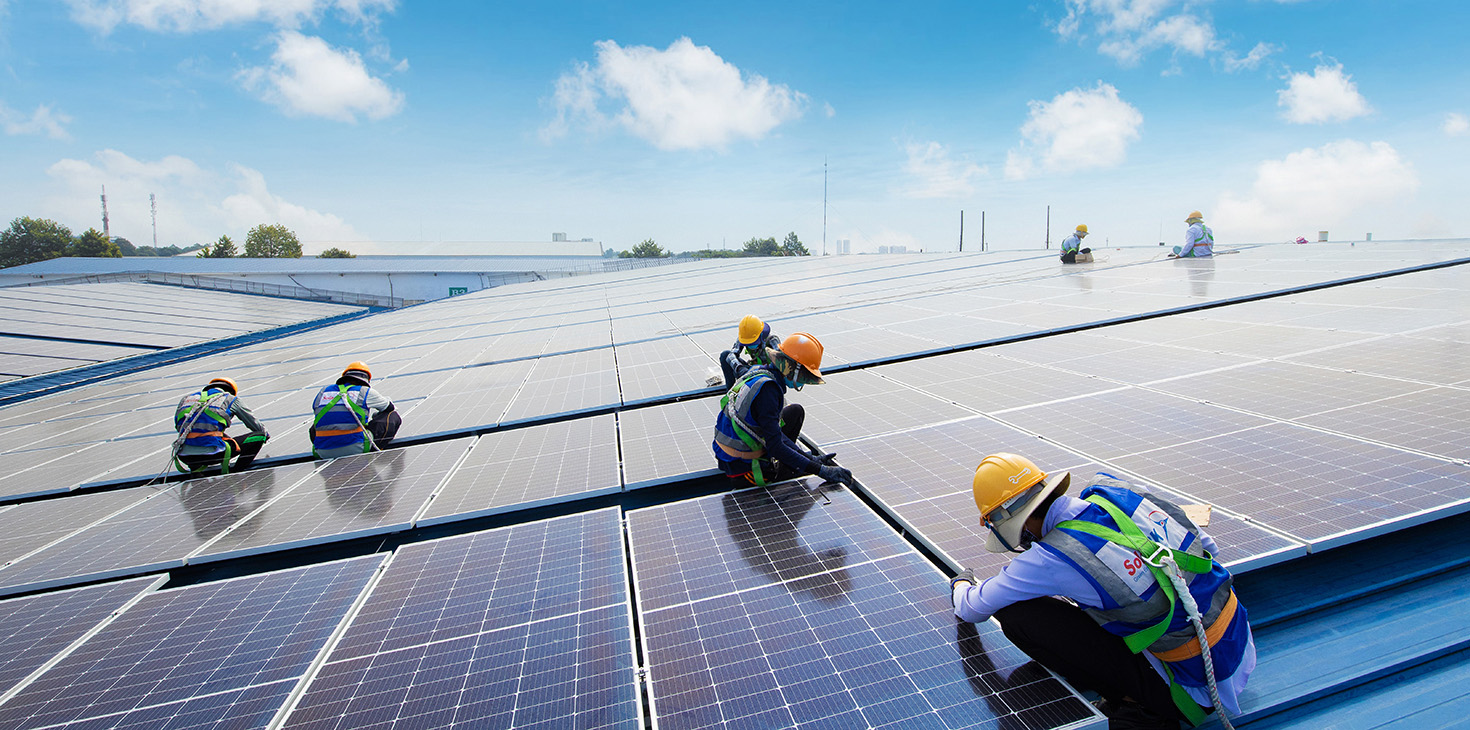 Energy Technology – scales up targeted ecosystem portfolio on focused business areas with high growth and cashflow generation potential, collaborates with business partners to promote mutual growth, and seeks investment opportunities in new S-curve businesses.  In February 2023, Banpu increased its shareholding in Durapower Holdings Pte Ltd. (Durapower) from 47.68% to 65.10% with an investment of USD 70 million in bid to scale up its battery business, which is one of the key mechanisms that connects Banpu's robust business ecosystem.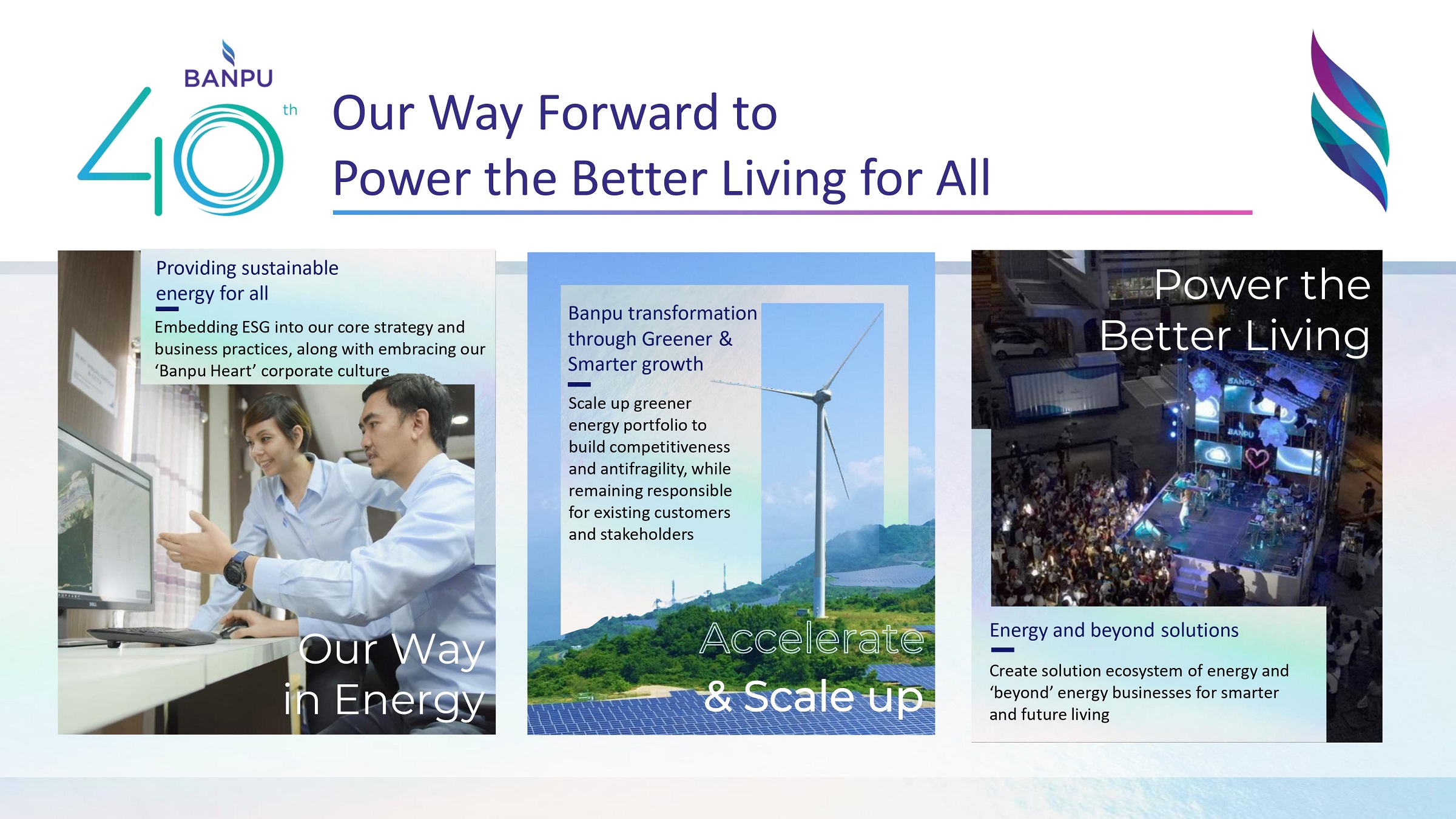 "2023 marks our 40th year in business. We will continue to deliver the best energy solutions to the people, enhance our business ecosystem and expand investments to meet the needs of the future world. Our ambition is to power a better living for all and a sustainable value for the world and all stakeholders, in accordance with Banpu's brand promise – Our Way in Energy," concluded Somruedee.
For more information, visit www.banpu.com or https://www.facebook.com/Banpuofficialth.
*Remark: Average exchange rate in 2022 – USD 1: THB 35.0614
###
About Banpu
Banpu Public Company Limited is an international versatile energy provider, operating 3 core groups of businesses – energy resources, energy generation, and energy technology – in Thailand, Indonesia, China, Australia, Lao PDR, Mongolia, Japan, the United States of America, and Vietnam.