Banpu Receives "Sustainability Disclosure Award 2022"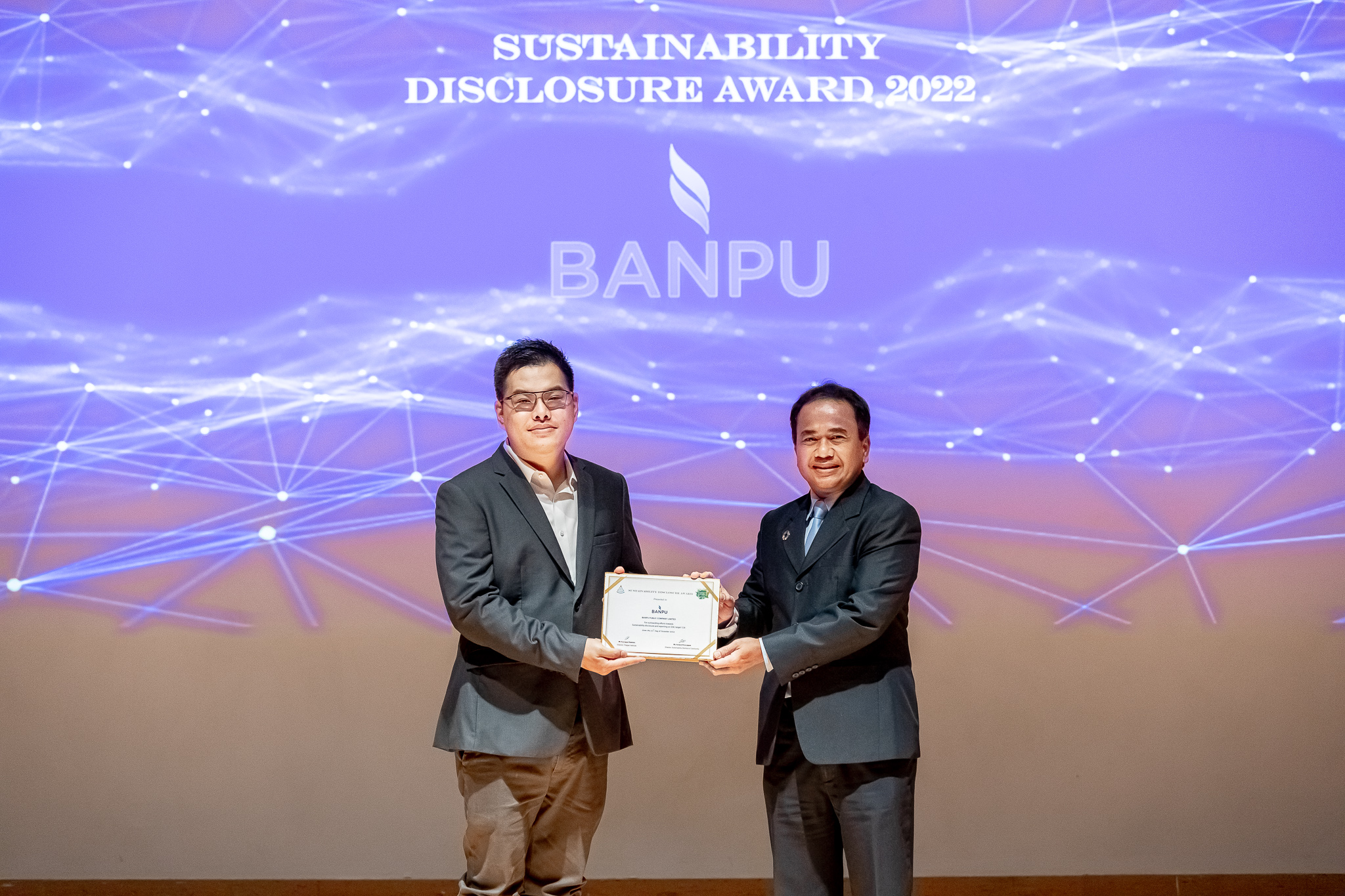 Banpu Public Company Limited, a leading international versatile energy provider, led by Mr. Jirameth Achcha, Head of Corporate Services, (right), received the honorary "Sustainability Disclosure Award". The award was presented by Mr. Vorranut Piantam, Director of Thaipat Institute (left) from the Sustainability Disclosure Award Ceremony 2022 organized by Thaipat Institute.
Banpu consistently conducts its businesses following the ESG (Environmental, Social, and Governance) principles throughout its 4 decades. The award reflects that Banpu has placed importance on the Company's stakeholders through continuous transparency in disclosing sustainability information, emphasizing the sustainability of the business which will truly benefit the stakeholders. Meanwhile, Banpu continues to expand the business growth under the Greener & Smarter strategy by focusing on increasing greener proportion in the business portfolio and implements advanced digital technology across the organization. All these efforts will drive the Company standpoint to deliver "Smarter Energy for Sustainability".
The Sustainability Disclosure Award is aimed at encouraging listed companies and business organizations that are members of the Sustainability Disclosure Community (SDC) to be aware and pay attention to the dissemination of operational information which includes Environmental, Social, and Governance or ESG aspects. The award recognizes the award-winning companies based on publicly available sustainability information for example, sustainability reports, the CSR report integrated into the annual report, or other forms of the report including print format, electronic data, etc. without using any additional data surveys or questionnaires.
Learn more about Banpu's sustainable business practices at www.banpu.com.
###
Banpu
Banpu Public Company Limited is an international versatile energy provider, operating 3 core groups of businesses – energy resources, energy generation, and energy technology – in Thailand, Indonesia, China, Australia, Lao PDR, Mongolia, Japan, the United States of America and Vietnam.