Banpu invites youth social entrepreneurs nationwide to apply for Banpu Champions for Change 4 program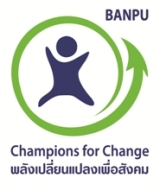 Banpu Public Company Limited welcomes the year of horse by inviting young people nationwide to join the social entrepreneur program "Banpu Champions for Change 4", a creative project for startups who are interested in running their business that create positive impact for the society. Their businesses must have the objective to solve and/or improve social and environmental problems.
"Banpu Champions for Change 4" program is inviting groups of young Thai aged 20 – 30 years nationwide who are social entrepreneurs to submit social enterprise plan. Selected teams that come with appropriate action plans and have the potential to achieve its goal will each receive 50,000 Baht for phase 1 implementation, which runs for three months. The initiatives that have the best outcome will each receive up to 200,000 Baht to continue phase 2 implementation for another six months. All selected entries that join the program will receive consultation, potential development workshop, experience sharing and strong networking with consultants and former social entrepreneurs.
For more information or to apply, please contact "Banpu Chamopins for Change" program, 444 Olympia Thai Tower, 22nd Floor, Ratchadapisek Road, Samsennok, Huaykwang, Bangkok 10310, Tel: 02 9382636 or E-mail: banpuchampions@gmail.com, Facebook: www.facebook.com/banpuchampions from today until February 28, 2014
About Banpu Champions for Change Program
The "BANPU Champions for Change 4" program is one of BANPU's corporate social responsibility activities undertaken under the concept of "Learning: A Power of Change and Development. Initiated in 2011," Banpu Champions for Change" is open to Thai youth nationwide to create and implement their own social enterprise (SE) initiatives based on their own interest and expertise. Moreover, it also provides them an opportunity to learn from first-hand experience in running social enterprise activities and applying their skills to create successful and profitable social enterprises. They will learn how to return the benefit earned from their social enterprises back to the community and society.