Banpu Introduces "BANPU NEXT", Ramping Up Its Clean Energy Portfolio with Technology Advancement; Revolving Its Business Management to Welcome the Next Decade of Success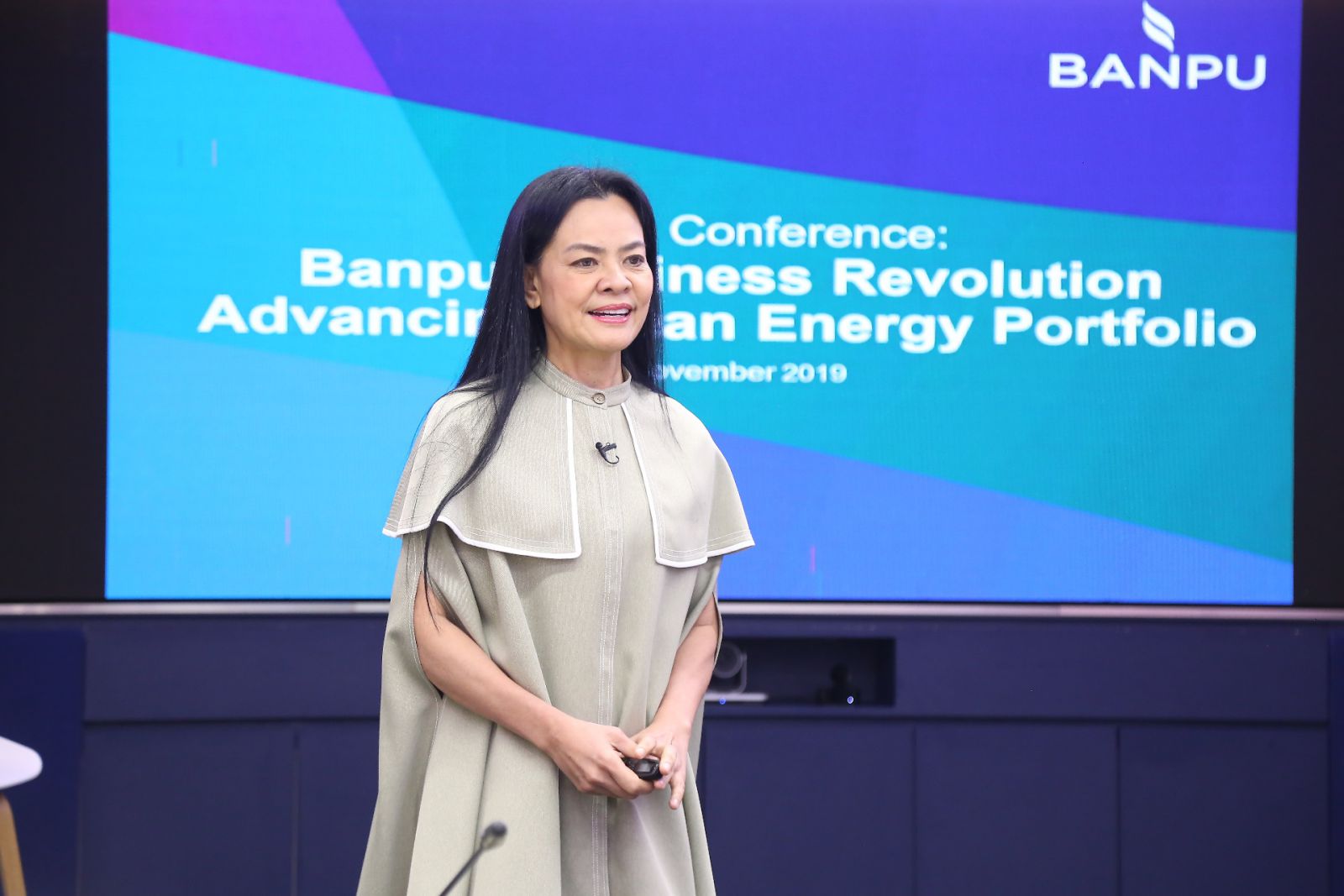 Banpu Public Company Limited (BANPU), a leading integrated energy solutions company in Asia-Pacific, is gearing up for its fourth decade of business by launching BANPU NEXT. BANPU NEXT will focus on investment and project development in the clean energy operation as well as energy technology business for accelerating its growth in line with the future global energy trends in accordance with the ESG (Environmental, Social, and Governance) principle supporting clean energy generation and usage, as well as through smart innovation and technology integration. This will ultimately strengthen Banpu's Greener & Smarter strategy, advancing Banpu as an integrated energy solutions provider.
Ms. Somruedee Chaimongkol, Chief Executive Officer of BANPU, said: "In order to drive sustainable growth for the energy business, Banpu needs to adjust to fit with the global energy trends known as the 3Ds, including Decarbonization, Decentralization and Digitalization. Banpu has undergone its revolution by revitalizing the structure of its subsidiaries in the Energy Generation and Energy Technology groups by establishing BANPU NEXT, which will focus on the clean energy portfolio of the group and strengthen Banpu Group's business ecosystem. This significant change in the disruptive era of upcoming fourth decade of Banpu will allow each business group to strategize, communicate and collaborate more wisely and effectively."
This significant revolution aligns with the company's business plan and accentuating the "Greener & Smarter" strategy, which will increase the proportion of clean energy business to be more than 50% within 2025. The clean energy business includes renewable energy generation, gas-fired power generation, energy technology, smart city solutions and shale gas business, etc.
BANPU NEXT was established as the Banpu Group's flagship company in the clean energy portfolio. The new company will focus on investment and project development in the clean energy operation as well as energy technology businesses, for instance, renewable energy generation, clean power generation system installation solutions, electric vehicles (EV) design and production, battery manufacture, energy storage and energy technology management systems. This restructuring will expand business opportunities in line with the global energy trends, including decentralization, decarbonization, and digitalization. This will also satisfy the expectations of consumers, communities, society, and the environment. BANPU NEXT is a new entity resulting from an amalgamation between Banpu Infinergy Co., Ltd. (BPIN) a 99.99% owned subsidiary of the company and Banpu Renewable Energy Co., Ltd. (BRE), an indirect 78.57% owned subsidiary of the company through Banpu Power Public Company Limited (BPP), which holds 99.99% of BRE. It is anticipated that Banpu and BPP shall each hold an equal proportion (50% of the total issued and outstanding shares) in BANPU NEXT. The amalgamation process is expected to be completed by February 2020. Renewable energy generation under BANPU NEXT has now achieved 406.7 megawatts, with 1,623 megawatts expected by the end of 2025.
Banpu Group has re-arranged the subsidiaries' operations to facilitate the efficient management and working process in the 10 countries in which it operates.
• Banpu Public Company Limited – as a parent company will be managing overall of 3 groups of businesses in the supply chain, which are Energy Resources, Energy Generation, and Energy Technology – under the supervision of Ms. Somruedee Chaimongkol, Chief Executive Officer of Banpu.
• Banpu Mineral Company Limited – managing the mining businesses, including coal and minerals that answer the needs of Energy Technology business by utilizing high-efficient and environmentally friendly technologies, integrating innovations, technologies and new digital systems for both business operations and logistics, and efficiently handling the supply chain to ultimately achieve expert administration.
• Banpu Power Public Company Limited – supervising and managing large scale "Baseload" power plants with HELE (High Efficiency, Low Emissions) technology. This uses the Ultra Super Critical system which is highly effective and environmentally friendly. Banpu Power will recognize a 50% share of BANPU NEXT's profits based on equity.
• Banpu North America Corporation Company Limited (BNAC) – managing shale gas investment in The United States.
• Banpu Innovation and Venture Company Limited – managing technology improvement and research innovations, as well as creating a working ecosystem between related organizations, while supporting new business development to respond to the future energy usage pattern.
The restructuring will enhance the stability of business operations under Banpu Group in the long term from the synergistic integration of business platforms. Also, it will continuously contribute strong cash flows and operational profit without affecting dividend distribution.
"This change will create solid trust that Banpu is committed to building business growth and sustainability, responding to consumers' needs, generating consistent and good returns to shareholders, while also creating sustainable values for all stakeholders as well as the world in which we live in accordance with its brand promise, 'Our Way in Energy'" Ms. Somrudee concluded.
# # #
About Banpu
Banpu Public Company Limited is a leading integrated energy solutions company with 3 core groups of businesses: energy resources, energy generation and energy technology in 10 countries, namely, Thailand, Indonesia, China, Australia, Lao PDR, Mongolia, Singapore, Japan, the United States of America and Vietnam