Banpu helps repair flood-damaged roads in Bang Len District of Nakhon Pathom Province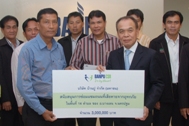 Banpu Public Company Limited's CEO Chanin Vongkusolkit (2nd from right), handed over a THB 3 million cheque to 14 Sub-district Administrative Organizations of Bang Len District, Nakhon Pathom Province for a repair of public roads damaged by the late 2011 severe flood in Bang Len District.
Bang Len District in Nakhon Pathom Province was one of the hardest hit areas by Thailand's worst flood in 50 years. It is one of the flood rehabilitation areas that Banpu has taking part in. Banpu has previously provided 7,000 litres of diesel oil as a fuel for pumping floodwater out of the Bang Len farmers' paddy fields. The Company has also helped renovate the buildings and facilities of Ban Klongnokkratung School as well as provided necessary equipment to Ban Klongpramopisai School. Additionally, Banpu plans to support the community seedbank fund to help farmers in this area. So far, Banpu's total support to Bang Len District worth around THB 4.5 million.