Banpu Helps Prepare Thai Youth for the ASEAN Community Providing Native English Teachers to Teach Students in 3 Northern Provinces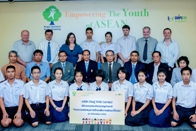 In late July, Banpu Public Company Limited led by Khun Chanin Vongkusolkit, CEO, presided over the release ceremony of native English teachers to teach at six schools under the "Banpu Education for Sustainability" (BES) project in Lamphun, Lampang and Phayao. The program aims at boosting English communication skills among students and teachers of the granted schools, making them ready for the ASEAN community formulation in 2015.
Apart from English skill development, BES project works to improve the six granted schools in three major areas, including an improvement of school's facilities and system, a teacher competency enhancement, and a promotion of self-learning for students. Over nine years of operations, Banpu has contributed over THB 26.5 million to improve schools in these three areas.
About the "Banpu Education for Sustainability" project
Since 1994, Banpu has run the "Banpu Education for Sustainability" project by supporting six schools in three Northern provinces, namely Wiengjedee Wittaya School in Lamphun Province, Sobprab Pittayakom School, Maeta Wittaya School and Maeta Pattanasuksa School in Lampang Province, Chiengmuan Wittayakhom School and Bansra School in Phayao Province.