Banpu Grants Scholarships to Geology and Mining Engineering Students for Two Consecutive Years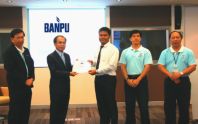 Recently, Banpu Public Company Limited, led by Mr. Chanin Vongkusolkit, CEO, presented the scholarships to ten senior students majoring in Geology and Mining Engineering from four academic institutions, namely Chulalongkorn University, Khon Kaen University, Chiang Mai University and Prince of Songkla University in order to help alleviate the shortage of manpower in the fields of geology and mining engineering.
This year is the second year that Banpu has granted scholarships for geology and mining engineering students. The scholarship awardees are entitled to a one-year financial support –including tuition and accommodation fees, learning material allowance and monthly stipend. The laptop is also provided to each student to facilitate learning. In addition, all the scholars will have a good opportunity to work at Banpu for one year after their graduation. Eight scholars, receiving scholarships from this program last year, already graduated and are now working at Banpu.