Banpu Collaborates with NSTDA on Research and Development for Innovative Solutions in Accelerating towards Carbon Neutrality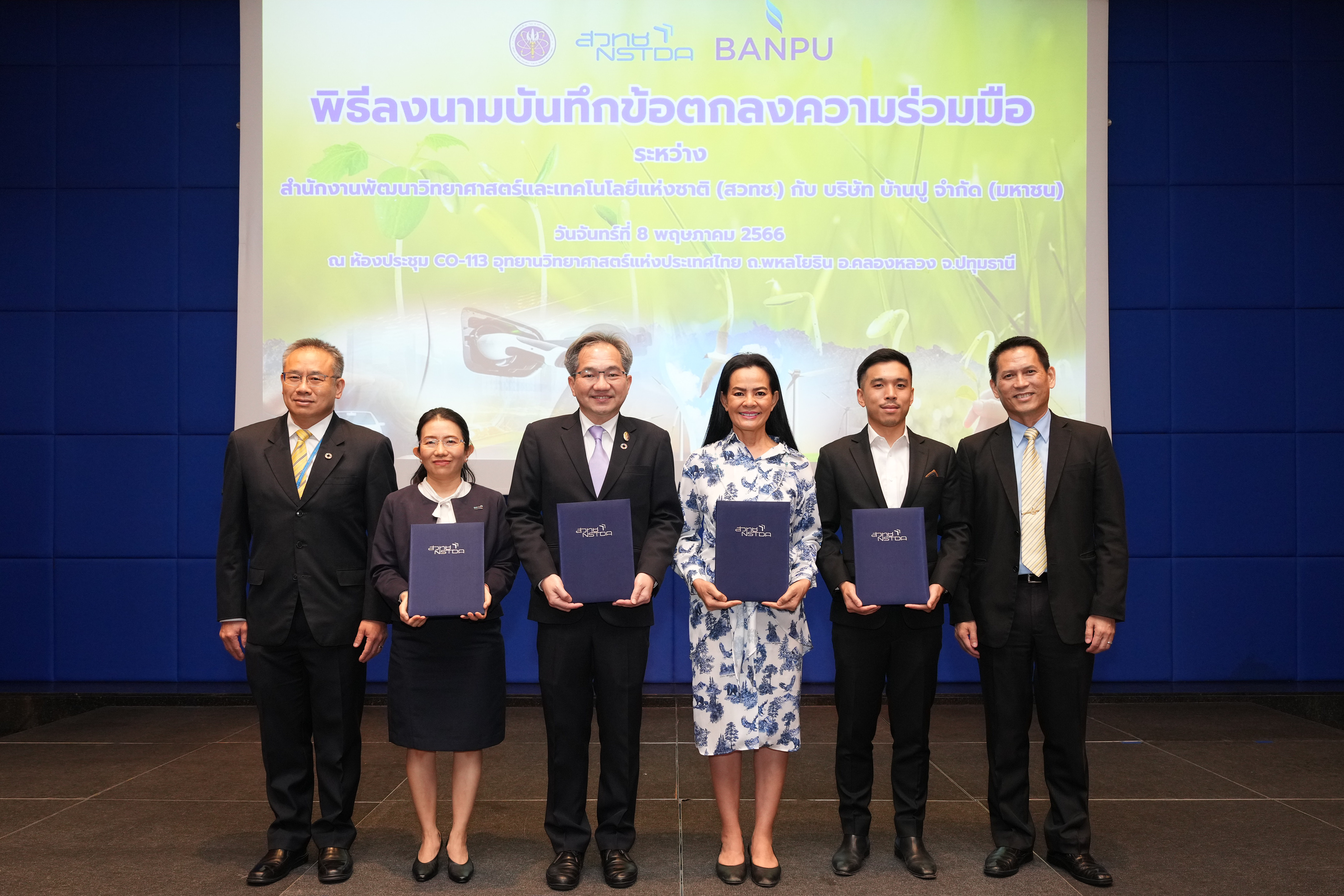 8 May 2023 – Banpu Public Company Limited, led by Mrs. Somruedee Chaimongkol, Chief Executive Officer (the 3rd from right), signed the Memorandum of Understanding (MoU) on research and development cooperation to promote industrial innovation in accelerating towards carbon neutrality with the National Science and Technology Development Agency (NSTDA), the Ministry of Higher Education, Science, Research and Innovation, which is represented by Prof. Dr. Sukit Limpijumnong, the President of the NSTDA (the 3rd from left) who is authorized to enter into the MoU. The MoU signing ceremony took place at Thailand Science Park in Pathumthani and was witnessed by Mr. Sinon Vongkusolkit, Chief Executive Officer of Banpu NEXT Co., Ltd. (the 2nd from right) and Dr. Teerachai Pornsinsirirak, Head of Digital and Innovation from Banpu Plc (the 1st from right), along with Dr. Sumittra Charojrochkul, Executive Director of National Energy Technology Center (the 2nd from left) and Dr. Janekrishna Kanatharana, Executive Vice President, Industry and Community Engagement, NSTDA (the 1st from left).
Mrs. Somruedee Chaimongkol, Chief Executive Officer of Banpu Public Company Limited said "Banpu is well-positioned as an International Versatile Energy Provider with a focus on innovation, technology, and sustainability. We prioritize operational processes and aim to build business growth towards decarbonization under our Greener & Smarter strategy. This collaboration with NSTDA will create mutual benefit for the two organizations in the big picture which includes strategies and policies relating to carbon neutrality as well as the cooperation in the international level through the network of both parties. Moreover, it also provides the practical benefit which covers cooperation in promoting industrial innovation, developing digital products, and facilitating bilateral skill and knowledge exchange.
# # #
About Banpu
Banpu Public Company Limited is an international versatile energy provider, operating 3 core groups of businesses – energy resources, energy generation, and energy technology – in Thailand, Indonesia, China, Australia, Lao PDR, Mongolia, Japan, the United States of America, and Vietnam.