Banpu and Mahidol University empower youth from all over Thailand to fight global warming and protect biodiversity in the "Power Green Camp 14"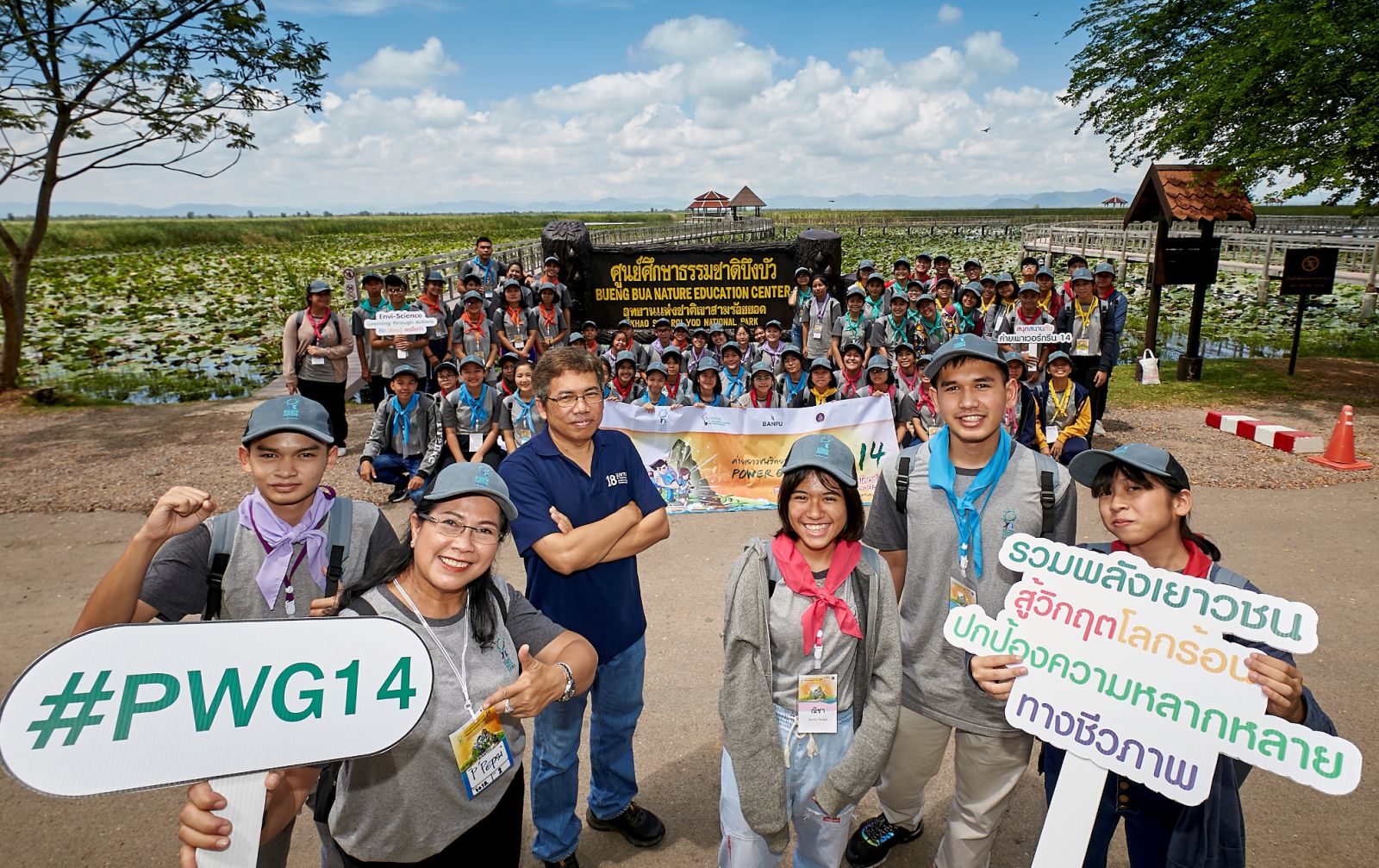 Banpu Public Company Limited a leading integrated energy solutions company in Asia-Pacific with a focus on social sustainability, led by Ms. Udomlux Olarn (2nd from left), Head of Corporate Communications, and the Faculty of Environment and Resource Studies, Mahidol University, led by Associate Professor Dr. Rattanawat Chaiyarat (3rd from left), Deputy Dean for Academic Affairs and Student Affairs and President of the Power Green Camp, jointly opened the 'Power Green Camp 14' on the theme "Empowering Youth to Fight Global Warming and Protect Biodiversity". Seventy students majoring in Science in Grades 10 and 11 from all over Thailand are participating in the camp, which runs from 7th – 14th October 2019 at the Faculty of Environment and Resource Studies, Mahidol University, Salaya Campus, Nakhon Pathom Province. Students will learn about the effects of global warming having on living creatures together with coping guidelines through both theoretical and practical activities, which enable them to initiate ways of management, protection and solving these issues in order to help protect the quality of human life and biodiversity. To make students truly understand lessons, they will also take a field trip to Khao Sam Roi Yot National Park, Prachuap Khiri Khan Province, one of richest sources of biodiversity in the country. The students will be surrounded by inspirational and positive thoughts about environmental preservation through special panel talk session from the speakers who have proven work experiences in the environmental fields. Later, the students will present their environmental science group projects based on what they learn from all the camp's activities.
# # #
About Power Green Camp
The Power Green Camp was established in 2006 through a collaboration between the Faculty of Environment and Resource Studies, Mahidol University, and Banpu Public Company Limited under the concept "Environmental Science – Learning Through Action". The camp aims to equip high-school students with knowledge about environmental science and implant environmental awareness in the youths as well as the ability to apply environmental science logically in real life. The camp also creates young environmental leaders and network targeting Grades 10 and 11 science-program students nationwide.
About Banpu Public Company Limited
Banpu Public Company Limited is a leading integrated energy solutions company in the Asia Pacific operating three core groups of businesses – energy resources, energy generation, and energy technology – in ten countries: Thailand, Indonesia, China, Australia, Lao PDR, Mongolia, Singapore, Japan, the United States of America and Vietnam.
"Learning is the Power of Change and Development"
Banpu's CSR and other social-oriented activities are based on the firm belief that "learning is the power of change and development" for people and society by emphasizing the promotion and development of continued "learning" among young people and communities in a number of ways. Banpu supports sustainable development of communities and society through a variety of learning opportunities for both individuals and teams, ranging from daily real-life experiences both in- and outside the classroom, to hands-on practice that enhances capabilities and skills.