Banpu All Thailand Table Tennis Championship 2012 Debuts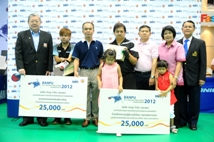 Bangkok 19 May 2012: Banpu Public Company Limited (BANPU), in collaboration with the Table Tennis Association of Thailand, kicked off the Banpu All Thailand Table Tennis Championship 2012 competition during May 19 – 21, 2012 at Island Hall, Floor 3, Fashion Island Shopping Center, with prizes worth over 200,000 baht. The Banpu Table Tennis Club sent more than 50 athletes to this tournament.
As part of the All Thailand program, the Banpu All Thailand Table Tennis Championship 2012 under the sponsorship of Banpu PCL, is a platform where youth table tennis athletes can both develop their skills and techniques and boost their physical and mental health. Banpu also sponsors a charitable table tennis match, raising 50,000 baht for donations to the Christian Foundation for the Blind in Thailand under the Royal Patronage of H.M. the King as well as the Thailand Disabled Table Tennis Club under the Association of the Physically Handicapped of Thailand.
The Banpu All Thailand Table Tennis Championship 2012 includes 11 categories including boys' singles & girls' singles aged 10, 12, 15 and 18 years; men's singles and ladies' singles and singles (men's/ladies) aged over 45. The competition attracted more than 900 junior and adult athletes.
Mr. Chanin Vongkusolkit, Banpu's Chief Executive Officer stated, "Our sponsorship of the Banpu All Thailand Table Tennis Championship 2012 is a part of Banpu's CSR program which is designed to promote and support continual learning in order to enhance young people's potential since we believe that 'learning' is a power of constructive change and development. All athletes are able to learn more about how to apply the skills they have acquired in practice to the real competition including how to compete under pressure. They also learn from the good role models set by highly acclaimed athletes. This encourages them to be 'skillful' and 'ethical' players.
The competition offers two additional prizes, "the Outstanding Athletes" for both male and female. They must be skillful in playing table tennis and be able to enter the semi-final round. Other qualities of the outstanding athletes include good manners toward the audience, rivals and the judges, a good personality, proper dress and excellent sportsmanship. The exclusive prizes are sponsored by the Banpu Table Tennis Club.